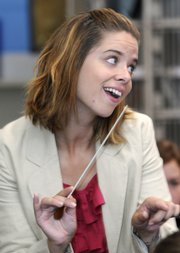 On the street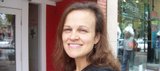 Yes I did. I was in orchestra for a couple of days in fifth or sixth grade, but I learned to play the fiddle by ear and couldn't read music, so they had to let me go.
"Junior high school was an awful experience for me," says Lauren Gaugert, 27, band director at West Junior High School.
"I felt awkward and self-conscious, didn't know who I was and didn't like myself. My classmates called me 'Bob' because I bobbed around when I played the flute."
Teachers and band directors took time to encourage and help her see and accept the importance and value of her musical gifts.
"Those teachers are still my heroes," she says. "I am so grateful to them."
As an educator, Gaugert wants to do the same for the teenagers she teaches.
"I want to continue to teach music to students of all abilities and backgrounds. I want them to find comfort, acceptance, and have the type of musical experiences that will help them to become more connected to who they are. I want them to see that with regular daily practice on their instrument, and playing music with others, they can create something good and beautiful."
She fared much better in her Minnesota high school. With growing confidence, she excelled in voice and flute, and she found music opened new doors for her. She joined a group of traditional carolers who dressed up and performed 52 times in the weeks leading up to Christmas. She played in the All-State Band directed by Mallory Thompson of Northwestern University. During a performance of "Elsa's Procession to the Cathedral" (from Richard Wagner's opera "Lohengrin") at Orchestra Hall in Minneapolis, Gaugert was moved to tears.
"The best moments of my life have been during performances when music really touches my soul and I feel connected to the divine," Gaugert says. "Mallory was an inspirational teacher; working with her sealed my decision to become a director."
Gaugert was awarded a full academic and music scholarship to Eastern New Mexico University, where she specialized in performing groups, chamber orchestra and music performance.
"I missed my parents and three younger sisters so much during that first year, I decided to transfer to the University of Minnesota in Morris to be near them," she says.
She graduated in 2003 and taught seventh- and eighth-grade marching and concert bands at Cotter School in Winona, Minn.
In 2005, her cousin, guitar-playing local attorney Max Kautsch, invited her to spend spring break with him in Lawrence. She brought her flute, and they played together. Kautsch encouraged her to move to Lawrence to get her master's degree at Kansas University, and he suggested they form a band.
"I took a leap of faith, resigned from my job at Cotter and moved to Lawrence," she says.
Southwest's choir director, Carolyn Welch, told her about the vacancy for band director at West. She applied, got the job and has been there ever since. She also assists with Free State's marching band and hopes to help with the Lawrence Youth Symphony in the Fall.
She's now in her sixth year of teaching and still loves it. Her goal is to create an environment of success for all students to learn and have fun with music, including those who have particular challenges. Gaugert was 3 when her youngest sister was born with Down syndrome.
"I saw how hard it was for her to figure some things out," she says, "and I enjoyed experimenting with different ways to help her learn new things. I want to be able to include students of all abilities in the band and help them succeed."
Gaugert tries to teach with humor and compassion. She's been known to display pictures of herself from her awkward junior high days in the hopes of encouraging those who may feel unsure of themselves as she once did. She tells students who find it hard to mix with others to give the band their best shot.
"I try to create an 'esprit de corps' in the bands so that everyone will play well together and have fun and success doing it," she explains.
She's thrilled when she sees students get excited about music.
"I've seen lives changed because of what I'm doing," she says. "I believe we can create something special through music. I hope to inspire young people the way my teachers and band directors inspired me."
- Eileen Roddy writes weekly profiles of people living in the Lawrence area. Have an idea for the column? E-mail her at roddyphillips@aol.com.
Copyright 2018 The Lawrence Journal-World. All rights reserved. This material may not be published, broadcast, rewritten or redistributed. We strive to uphold our values for every story published.