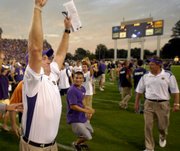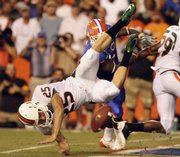 Greenville, N.C. — Skip Holtz followed his biggest coaching victory at East Carolina with an even more impressive one.
Jonathan Williams had two short touchdown runs, quarterback Patrick Pinkney was nearly perfect and the Pirates beat No. 8 West Virginia, 24-3, on Saturday for their third straight victory over a ranked team.
Pinkney was 22-of-28 for 236 yards with a touchdown for East Carolina (2-0), which opened the season with a last-minute upset of then-No. 17 Virginia Tech.
This one was decided much earlier. The Pirates never trailed, kept Pat White in check, outgained West Virginia, 386-251, and were in control from start to finish.
They cruised to their first upset of a top-10 team since the Steve Logan-led team stunned then-No. 9 Miami 27-23 on Sept. 23, 1999.
These Pirates may have done something even more remarkable by taking care of the two toughest teams on this year's schedule. Those wins could propel them back into the Top 25 for the first time since '99 while keeping them in the conversation for an at-large BCS berth.
No. 2 Georgia 56, Central Michigan 17
Athens, Ga. - Led by Knowshon Moreno, Georgia responded just fine after being bounced from No. 1.
Moreno rushed for 168 yards and tied his career high with three touchdowns, while massive defensive end Demarcus Dobbs rumbled for a 78-yard score after picking off a deflected pass to lead the Bulldogs.
Matthew Stafford got in on the fun by completing 18-of-28 for 213 yards, hooking up with Mohamed Massaquoi on a pair of touchdown passes.
The Bulldogs passed for 289 yards and rushed for 263 - the sort of balance that should serve them well in much tougher games to come. Georgia (2-0) has a brutal schedule the rest of the way, beginning with back-to-back road games at South Carolina and Arizona State.
No. 3 Ohio State 26, Ohio 14
Columbus, Ohio - Lightly regarded even in the Mid-American Conference, Ohio put a scare into Ohio State before the Buckeyes righted things in the fourth quarter.
With star tailback Chris Wells sidelined by a foot injury, the Buckeyes (2-0) struggled to move the ball until Brandon Saine's short plunge on the third play of the final quarter finally put them on top.
Ray Small added some breathing room with a late 69-yard punt return for a TD.
Ohio (0-2) had five costly turnovers - two in the fourth quarter - to help its bigger, badder neighbors escape.
Wells, mentioned as a Heisman Trophy hopeful after gaining 1,600 yards a year ago, injured his right foot a week ago in a 43-0 rout of Youngstown State.
No. 5 Florida 26, Miami 3
Gainesville, Fla. - Heisman Trophy winner Tim Tebow was good early and even better late, enough to help Florida snap a six-game losing streak against rival Miami.
Tebow threw two touchdown passes, speedster Percy Harvin ran for a score and the Gators used a swarming defensive effort to beat the Hurricanes.
It was Florida's first victory since 1985 in the on-again, off-again series that used to be one of the best and most heated in the nation.
The rebuilding Hurricanes (1-1), three-touchdown underdogs, hung close for three quarters with the Gators (2-0), who had averaged more than 40 points at Florida Field when Tebow started.
No. 9 Auburn 27, Southern Miss 13
Auburn, Ala. - Chris Todd completed 21 of 31 passes for 248 yards in his first start and gave Auburn's passing game a needed lift.
The junior college transfer might have ended the Tigers' quarterback question by completing an array of short and mid-range passes and effectively running the new spread offense.
He also led a late scoring drive for Auburn (2-0) after Southern Miss (1-1) surged back with a pair of touchdowns against a defense that had pitched a shutout for the first 102 minutes of the season.
No. 11 Wisconsin 51, Marshall 14
Madison, Wis. - Allan Evridge threw for 308 yards and a touchdown as Wisconsin reeled off 51 straight points to turn a potential upset into a walkover.
A loss would have snapped the second-longest home winning streak in major college football and cost the Badgers (2-0) momentum heading into a tough test at Fresno State.
But after watching Marshall (1-1) shut down its highly regarded running game, Wisconsin got big plays out of Evridge and the defense to pull out its 16th straight win at Camp Randall Stadium.
No. 13 Alabama 20, Tulane 6
Tuscaloosa, Ala. - Javier Arenas returned a punt 87 yards for a touchdown and No. 13 Alabama held on Saturday for a shaky victory over Tulane, forced out of New Orleans a week ago by the threat of Hurricane Gustav.
Just one game after looking like world beaters against then-No. 9 Clemson, a listless Alabama (2-0) allowed four sacks of John Parker Wilson, fumbled once, missed two kicks and gained only 172 yards - just 38 in the first half.
No. 15 BYU 28, Washington 27
Seattle - Jan Jorgensen busted through the line and blocked Ryan Perkins' 35-yard extra-point attempt with 2 seconds left in regulation for BYU (2-0).
Jake Locker drove the Huskies 76 yards in 17 plays, capped by his 3-yard plunge to pull Washington within one. But Locker was called for unsportsmanlike conduct, a point of emphasis for officials this season after the touchdown. Locker threw the ball in the air before jumping with his teammates in the end zone.
Perkins approached the kick slowly and hit it low, giving Jorgensen a chance to get his paws on the kick.
Max Hall led the Cougars with 339 yards passing and three touchdowns.
No. 15 Arizona State 41, Stanford 17
Tempe, Ariz. - Rudy Carpenter passed for 344 yards and three touchdowns for the Sun Devils.
No. 18 Oregon 66, Utah State 24
Eugene, Ore. - Justin Roper returned from a concussion and helped Oregon to a school-record 688 yards.
LaGarrette Blount ran for 132 yards and two touchdowns for the Ducks (2-0). Blount took on the bulk of the rushing duties after Jeremiah Johnson left with a shoulder injury on the first series of the game.
Utah State, which opened with a 27-17 loss to UNLV, has won just one of 46 games against ranked opponents.
No. 19 Penn State 45, Oregon State 14
State College, Pa. - Evan Royster rushed for 141 yards and three touchdowns, Daryll Clark threw two TD passes and the Nittany Lions defense didn't miss a beat without two suspended starters.
No. 20 Wake Forest 30, Mississippi 28
Winston-Salem, N.C. - Sam Swank kicked a 41-yard field goal with 3 seconds left to cap a dramatic final minute and lift Wake Forest (2-0).
After Jevan Snead's 5-yard touchdown pass to Cordera Eason on fourth down with 1:01 left gave Ole Miss the lead, Riley Skinner led the Demon Deacons on a 56-yard drive, keyed by a pass interference penalty against Marshay Green.
Swank, the nation's active career leader with 65 field goals, then calmly drilled the game-winning field goal.
No. 22 Utah 42, UNLV 21
Salt Lake City - Brian Johnson threw for two touchdowns and scored on a 56-yard run as No. 22 Utah celebrated its return to the national rankings with a victory over UNLV.
The Utes (2-0) scored three touchdowns in the third quarter and pulled away after a shaky first half, holding the Rebels (1-1) to 11 yards of offense in the third period and only 72 total yards in the second half.
Utah scored 35 straight points and avenged a 27-0 loss at Las Vegas last September.
No. 24 Illinois 47, Eastern Illinois 21
Champaign, Ill. - Juice Williams ran for 174 yards and two touchdowns to lead Illinois to its first win of the season.
Williams broke the Illinois quarterback record of 145 yards he set in 2006, and threw for 124 yards and a touchdown. But the junior also threw two interceptions and fumbled the ball a yard short of a third-quarter TD.
Travorus Bess rushed for 183 yards for Eastern Illinois (0-2), a Championship Subdivision school 45 miles south of Champaign in Charleston.
Illinois (1-1) scored four touchdowns in a decisive, 13-minute span that started late in the first half, going from a 13-7 lead to 40-7 after mistakes and bad luck let Eastern hang around for most of the first half.
No. 17 South Florida 31, Central Florida 24
Orlando, Fla. - Matt Grothe threw for 346 yards and three touchdowns, including a 25-yarder to Taurus Johnson in overtime, and No. 17 South Florida beat Central Florida, 31-24, Saturday night in the final scheduled meeting between the rivals whose campuses are barely 100 miles apart.
UCF's Michael Greco threw touchdown passes of 13 yards to Corey Rabazinski and 31 yards to Rocky Ross within a span of 66 seconds to make it 24-all with 1:40 remaining in regulation. The game went into overtime after South Florida's Delbert Alvarado hooked a 42-yard field-goal attempt to the left in the closing seconds.
Grothe put South Florida ahead with his TD throw to Johnson, who had six catches for 143 yards, on third down. UCF's bid to extend the game to a second OT was stopped inches shy when the Bulls' Tyrone McKenzie and Brouce Mompremier tackled Greco for a five-yard gain on fourth-and-six from the 21-yard line.
South Florida's Moise Plancher rushed for 55 yards and a TD on an emotional night for him. His cousin, Ereck, was a UCF freshman receiver who died this year during offseason conditioning drills and was remembered with a moment of silence before the game.
Moise Plancher gained 27 yards on his first carry of the game, then finished South Florida's opening drive with a 14-yard touchdown run.
South Florida (2-0) will play host to Kansas (2-0) at 7 p.m. on Friday in Tampa, Fla.
Copyright 2018 The Associated Press. All rights reserved. This material may not be published, broadcast, rewritten or redistributed. We strive to uphold our values for every story published.