-->
Audio Clips
KU vs. Louisiana Tech
Photo Gallery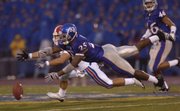 KU vs. Louisiana Tech
A 22-play drive that resulted in no points deflated Louisiana Tech's football team Saturday night at Memorial Stadium.
"Anytime you get down there tight and don't get points, it's devastating," Tech coach Derek Dooley said after a 29-0 loss to the Jayhawks, a loss that came one week after the Bulldogs' stunning 22-14 victory over Mississippi State.
"When you play an outstanding football team, you better take advantage of any opportunity you get."
The Bulldogs' marathon drive, which lasted 91â2 minutes, started at Tech's 12-yard line with 5:03 left in the first quarter. It ended with 10:40 left in the half on a Chris Harris end-zone interception that came on a second-and-goal call from the six, with KU leading just 3-0.
"That brought a lot of our confidence down," said Louisiana Tech running back/receiver Phillip Livas, whose 78-yard run (fifth longest in school history) in the third quarter down to the KU two also resulted in no points because of a missed field goal with KU leading, 20-0. "We were right there. We should have punched it in."
Senior quarterback Taylor Bennett, a transfer from Georgia Tech, has seen enough football to know that long drive resulting in nothing was a killer.
"That's huge," said Bennett, who completed 12 of 33 passes for 119 yards and an interception. "Shoot, anytime you go 10 plays on a drive and not score ... we went 26 plays, I think, and didn't punch it in. We don't punch it in when Livas gets that long run. We had opportunities we didn't capitalize on that without a doubt would have changed the whole outcome of the game."
The Bulldog defense allowed 126 rushing yards off 33 carries. Todd Reesing threw for a career-best 412 yards, hitting 32 of 38 passes, good for three TDs.
"We didn't really stop anything. They had 500-some yards," Dooley said. "The only thing we did do early is when they got in tight, we kept them out of the end zone. That can only keep you in it so long. If you don't score points, it doesn't matter what happens.
"We won't win any games if we don't run the ball better," Dooley added after his team gained 148 yards off 27 carries, but 78 coming on Livas' long dash.
The Bulldogs didn't blame soggy Kansas weather for their problems Saturday.
"No, it definitely was not a factor. We practiced in a hurricane all week," Bennett said. "We watched the news and weather. We were expecting it."
He was asked if KU's defense was the best he has faced in his career.
"I've seen some pretty good defenses in the past. It's a good defense. They played hard," Bennett said. "Kansas has a real good passing game going on. I think they'll have a good season."
Copyright 2018 The Lawrence Journal-World. All rights reserved. This material may not be published, broadcast, rewritten or redistributed. We strive to uphold our values for every story published.