On the street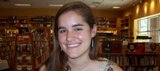 'Three Cups of Tea,' by Greg Mortenson. It's basically about a man who tried to summit K2 but stumbles upon a nearby village and falls in love. Then he returns with supplies over the next year to build a school for the children there.
Jack Carpenter saves kids. When he was a detective with the Fort Lauderdale Police Department, his specialty was finding missing kids - and he never failed. As a private detective, he's had the same success, but suspenseful "The Night Stalker" (Ballantine Books. $25) brings him his strangest case.
Jack is hired by serial killer Abb Grimes, awaiting execution at the prison in Starke, to find his kidnapped grandson, Sampson. The main suspect is the child's father, Jed, a young man deeply troubled by his father's crimes. But the Fort Lauderdale cops and an arrogant FBI agent have pegged Jed a killer like his father. Despite evidence, Jack believes that Jeb is innocent, but proving it won't be easy.
Swain, best known for his series about a casino consultant, showcases his versatility in "The Night Stalker." Swain takes the disgraced ex-cop - a genre cliche - and fashions Jack into a compelling, complex hero The fresh, action-packed tale is full of surprises as well as several heart-stopping scenes that remind parents how easily a child can become an abduction victim.
Readers will also get a good glimpse of the reality of life in South Florida.
Swain's sturdy storytelling and his intelligent plotting excel in "The Night Stalker."
Copyright 2018 The Lawrence Journal-World. All rights reserved. This material may not be published, broadcast, rewritten or redistributed. We strive to uphold our values for every story published.