Current prices
Current prices are recorded from antiques shows, flea markets, sales and auctions throughout the United States. Prices vary in different locations because of local economic conditions.
¢ Little Tot spice grinder, wooden box with cast-iron top, embossed drawer front, c. 1880, 2 1/2-by-4-by-2 1/2 inches, $55.
¢ Lucky Strike ad, lady wearing fur coat getting cigarette as she boards TWA "Lindbergh Line" Aeroplane, c. 1940, 14-by-22 inches, $75.
¢ Betty Crocker Picture Cookbook, 5-ring notebook, first edition, 1950, 463 pages, $135.
¢ Howdy Doody desk chair, painted metal frame, black-and-white vinyl-covered seat and back with character images and names, 1950s, 14-by-25-by-23 inches, $150.
¢ Bakelite pin, horse's head, reddish brown, leather collar, brass chain, 3 1/2-by-3 inches, $185.
¢ Kewpie doll, jointed at shoulders, bisque, design-patent decal on back, c. 1900, 7 1/2 inches, $285.
¢ Donald Duck dime register bank, image of Donald with bags full of money, red ground, gold luster border, "Lookie What I Saved," 1939, 2 1/2-by-5-by-7 1/2 inches, $445.
¢ Child's scooter, Skippy Racer, pressed steel, red paint, foot brake, 1920s, 44-by-32 inches, $510.
¢ Royal Doulton vase, Titanian, wisteria design, green-yellow, black and purple, gold outline, smoky blue ground, 11 1/8 inches, $805.
¢ George Nakashima Greenrock ottoman, hand-stitched fabric, walnut frame, nylon webbing, chenille upholstery, 1982, 15-by-21-by-21 inches, $6,875.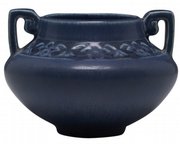 Is all art pottery Rookwood? Is all Rookwood art pottery? Does this sound like an exercise in a college logic class? The answers to the Rookwood questions are "no" and "no." Art pottery in the United States was first made in Cincinnati in the 1870s. The pottery was hand-thrown and hand-decorated, so each piece was unique. The successful American potteries became larger and hired specialists to shape, design and decorate art wares. Experts say the art pottery movement ended by the 1930s, when studio potters began working alone or in small groups to make unusual pieces, and larger pottery companies turned to mass production. Rookwood was one of the first and probably the most famous of the U.S. art potteries. It was open from 1880 to 1967, then closed and reopened in 2006. Rookwood made art pottery and what is now called "production wares" during its first life. Production pieces were mass-produced commercial wares that were less expensive because they required less labor. Pieces included small molded book ends, ashtrays, figurines, candlesticks and vases. A single-color matte glaze was usually used, and there was no hand-painting. Because the shape was formed in a mold and an overall glaze was used, the pieces were not unique. Collectors today pay high prices for many pieces of early Rookwood. The best of the art pottery sells for tens of thousands of dollars; production pieces sell for much less, often less than a few hundred dollars.
Q: Someone told me my footstool with a revolving top is a "tatting stool." The top is padded velvet. What's a tatting stool?
Tatting is a process similar to knitting and crocheting that involves knotting and looping a piece of cotton thread to make small, delicate varieties of lace. It was popular during the Victorian era. It may have been inspired by "netting," the process fishermen used to make nets. Your stool may indeed be a tatting stool. A tatter would tat a lace piece, then roll the stool top a bit and continue as the material wound on a roll and stayed intact. Today tatters use a handheld shuttle or other device with a bobbin or wheel inside that keeps the thread at the correct tension and prevents it from becoming tangled.
Q: I have a patchwork quilt that has some squares that seem to be painted. They all have exactly the same design of flowers. Could it be old? I have seen quilts with embroidered designs but not painted ones.
A. Painted and stenciled patches for quilts have been used since the early 1800s. They are rare, though. Embroidered designs took a long time to create, and painting looked very much the same but took less effort. You could even get precut stencils and stencil the designs on plain fabric.
Q: Up in the rafters of our house, we found a washboard that says "Mother Hubbard Roller Washboard." It has to be an antique. Is it?
A: Mother Hubbard Roller Washboards were made from the turn of the century until 1935. Four brothers named Hubbard founded the Hubbard Mill in Dover, Ill., to make the washboards. As production increased, the factory moved to larger facilities in nearby towns and the washboards were shipped across the country. They were sold door-to-door for years. The popular washboard had threaded maple rollers that rolled in opposite directions. The screw threads did most of the work, making washing easier for the user. Production ceased when the electric washing machine took over in American households. Old washboards sell for $5 up to $400, depending on make and condition. Mother Hubbard boards tend to sell for higher-than-average prices.
Q: I was given four unlabeled amber glass violin-shaped bottles many years ago. They range from 4 3/4 to 11 inches in height. The three largest are embossed "Federal law forbids sale or re-use of this bottle." All four are embossed "Des. Pat. 107353." There's another mark, "OI" in a square. What can you tell us?
A: Some people specialize in collecting bottles shaped like fiddles. The first violin bottles apparently were made in France in the middle of the 19th century. But most fiddle bottles found by U.S. collectors were made in this country between 1900 and 1940. Any bottle marked with the "Federal law" phrase on yours was produced between 1933 and 1964 (collectors say these bottles are from the "nasty words era"). But your bottle also can be identified by its design patent number, granted on Dec. 7, 1937, and assigned to the Bardstown Distillery of Bardstown, Ky. "Bardstown bottles" were made by Owens-Illinois and Anchor-Hocking, two Ohio glass companies that are still in business. Yours, with the "OI" mark, were made by Owens-Illinois. The bottles originally held bourbon and had paper labels. They are well-known among fiddle-bottle collectors, who prefer bottles with their original paper labels. With the labels, the bottles sell for $15 up to about $50, depending on size and condition.
The Kovels answer as many questions as possible through the column. By sending a letter with a question, you give full permission for use in the column or any other Kovel forum. Names and addresses will not be published. We cannot guarantee the return of any photograph, but if a stamped envelope is included, we will try. The volume of mail makes personal answers or appraisals impossible. Write to Kovels, (Lawrence Journal-World), King Features Syndicate, 300 W. 57th St., New York, NY 10019.
Copyright 2018 The Lawrence Journal-World. All rights reserved. This material may not be published, broadcast, rewritten or redistributed. We strive to uphold our values for every story published.