-->
Audio Clips
KU vs. Louisiana Tech
Photo Gallery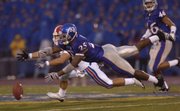 KU vs. Louisiana Tech
Go figure
7.6
KU's average gain per offensive play
4.4
Louisiana Tech's average gain per offensive play
32-38
Kansas QB Todd Reesing's passes completed-attempted
412, 3
Reesing's passing yards, TDs
5.5
Louisiana Tech's average gain per rush
3.8
Kansas'
average gain per rush
84
Net rushing yards by KU's Angus Quigley (15 carries, 5.6 per rush)
42
Rushing yards for the rest of the Jayhawks (18 carries, 2.3 per carry)
Apparently, Louisiana Tech didn't get the memo.
A week after the Kansas University football team nickel-and-dimed its way past visiting Florida International by passing for 256 yards and three touchdowns in a lopsided season-opening victory, Louisiana Tech on Saturday didn't veer too far from the Golden Panthers' unsuccessful strategy.
More stacking of the box. More blitz packages. More effort to prevent the Jayhawks, at all costs, from running the ball.
And in the minutes following Saturday's 29-0 victory over the Bulldogs, Kansas University coach Mark Mangino didn't mince words when delivering a message to future foes:
"You're taking some chances with our pass game when you (focus on stopping the run)," said Mangino, whose team will get its biggest test of the new season when the Jayhawks travel Friday to South Florida. "You might do a good job against our run game, and that's fine. But if I was playing us, I'd be trying to defend the pass, because it's proven that it can hurt you."
And Saturday's performance wasn't without it's share of pain. Quarterback Todd Reesing, after a somewhat shaky debut last week, returned with one of the best performances of his career, completing 32 of 38 passes for 412 yards, the third best single-game total in Kansas history.
Despite lacking his top target from a season ago - senior receiver Dexton Fields, who missed Saturday's game after an injury sustained in last week's victory - Reesing took turns firing bullets to new faces - true freshman Daymond Patterson, who was making his first career start - and old faithfuls - like junior Kerry Meier, who caught nine passes for the second straight game.
Reesing's first touchdown came on a three-yard strike to Patterson, who started in place of Fields and recorded his second career touchdown following a 75-yard punt-return TD in last week's victory.
And it didn't stop there.
Four Kansas receivers each finished with four or more receptions, and two finished with receptions of 40 yards or more.
"I'll throw to anybody, anytime," Reesing said. "I think I've kind of shown that."
The most impressive outing, though, might have come from last week's standout. If it was possible for sophomore receiver Dezmon Briscoe to improve upon his three-touchdown, season-opening performance last week, he did his best to do that Saturday. The Dallas native grabbed seven passes for a game-high 146 yards yards and turned in the play of the game when he broke five tackles on his way to a 48-yard touchdown reception (afterward, the student section merrily counted out the broken tackles as the dash was replayed on the south end zone's video board).
The score put the Jayhawks ahead 20-0 and officially derailed the Bulldogs' attempt at a second straight upset.
The Kansas defense, meanwhile, took care of the rest - especially in the red zone. After Louisiana Tech marched 83 yards in 22 plays to the Kansas five-yard line early in the second quarter, a pass from Bulldogs quarterback Taylor Bennett was deflected into the hands of cornerback Chris Harris to squash the drive.
Two quarters later, after a 78-yard run by Phillip Livas put Louisiana Tech at the Jayhawks' two-yard line, the defense held the Bulldogs to a field-goal attempt, which was missed by kicker Brad Oestriecher.
The shutout marks only the second in Mangino's tenure at Kansas, while the Jayhawks' defense hasn't allowed a touchdown yet this season; Florida International scored on a punt return touchdown last week.
"It feels good," KU linebacker Joe Mortensen said. "We now have that goose egg on the board. And that's what we wanted."
Next week, however, things get interesting. Kansas is scheduled to play South Florida in a Friday night, nationally televised game in which it'll get its first true test of the season.
"The positives are (that) our defense played extremely well, even in a couple of tough spots, and the offense moved the ball well," Mangino said. "(But) we need to get more touchdowns in the red zone, and that is something that we will address this week."
Copyright 2018 The Lawrence Journal-World. All rights reserved. This material may not be published, broadcast, rewritten or redistributed. We strive to uphold our values for every story published.