-->
Audio Clips
KU vs. Louisiana Tech
Photo Gallery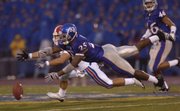 KU vs. Louisiana Tech
Angus Quigley says he was surprised - shocked even.
Just before the end of the first half, Kansas University football coach Mark Mangino came up to Quigley and delivered a simple message: The junior was going in at running back, and soon.
"I was kind of like, 'What? I'm just a fourth-quarter guy. What am I doing in the third quarter?'" Quigley said.
The running back answered his own question soon enough.
Quigley rushed 15 times for 84 yards in the second half, jump-starting a KU rushing attack that was stagnant through the first 30 minutes.
Before Quigley's entrance, the Jayhawks mustered just 45 yards on 17 carries.
"Without looking at the tape, I thought Angus did a lot of positive things," Mangino said. "He still looked a little high - his shoulder pads are not quite down as much as you'd like - but I thought he did a nice job of picking his way and accelerating through lanes."
It's been a long road for Quigley, who has battled injuries through his four years with the program.
He worked extra with the trainers in the summer to try to remain healthy. He also made it through what he called "the longest camp of his life."
Through it all, he knew there might not be carries left over for him, with Jake Sharp and Jocques Crawford in the same backfield. But, even after watching other backs leave KU, he never wavered in his decision to stick it out.
"When I look around and see all these guys I came in with - (Darrell) Stuckey, Kerry (Meier), Arist Wright, guys like that - I could never quit on my teammates like that," Quigley said. "If I had to play special teams here for five years, six years, whatever, that's what I would do. I've never been a quitter."
The Jayhawks are glad he's still around. Through two games, he has been KU's most effective runner.
It hasn't been close, either.
Quigley has 21 carries for 131 yards, good for a 6.2-yard average. Sharp (3.2 yards per carry) and Crawford (2.7 ypc) remain a good distance behind despite having fewer carries.
"He hit his holes, and he's got the size and strength to really get those yards after contact," KU quarterback Todd Reesing said. "He's proven that."
But can he perform like that in the first half? Or even as a starter?
Those are questions that Mangino surely will be asked leading up to his team's game with South Florida this week.
"It's really up to the coaching staff. I have no say in (playing time)," Quigley said. "If the coaches say I deserve some first-half carries, I will gladly accept those first-half carries. I will take them running.
"I'm just running with it, man. That's all I can do right now."
Copyright 2018 The Lawrence Journal-World. All rights reserved. This material may not be published, broadcast, rewritten or redistributed. We strive to uphold our values for every story published.