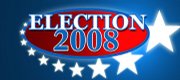 In-depth coverage of the candidates and the issues, all leading up to the Aug. 5 primary and the Nov. 4 general election.
With the party conventions over and the vice presidential candidates picked, the race for the president of the United States will be a tight one.
And, depending on which political pundit you ask, it could be age, race or experience that ultimately determines whether John McCain or Barack Obama will be president.
That's according to the three seasoned political panelists who spoke at Saturday's Kansas Editors Day, an event hosted by Kansas University's School of Journalism.
Salon.com's Washington bureau chief Walter Shapiro, Democratic media advisor Raymond Strother and Bill Lacy, former presidential campaign manager for Fred Thompson and director of KU's Dole Institute of Politics, offered their takes on this year's barrier-breaking, surprise-filled presidential race.
The trio spoke to an audience of more than 50 at Alderson Auditorium in the Kansas Union.
Though it isn't getting the attention it deserves, the issue of race will be among the key factors in the election, Strother said.
He pointed to his work on the campaign of Buddy Roemer, who in 1991 was running against former Ku Klux Klansman David Duke for the governor of Louisiana.
Though focus groups told pollsters they wouldn't vote for a racist, Strother said, many ended up choosing Duke.
"It shows how difficult it is to get a grip on racism," he said.
Fresh from the Republican convention, Shapiro said voter turnout of those 30 and younger would be key. Early in the primaries, the younger demographic showed up in disproportionate numbers in support of Obama.
"Every day an Archie Bunker is leaving the planet and a new 18-year-old, who grew up in an America that preached the virtues of tolerance and is surrounded by tolerance, is able to vote," he said.
Lacy, who worked on Bob Dole's presidential campaign in 1996, said this should have been the worst year for Republicans since the 1974 election in the wake of the Watergate scandal.
"And yet John McCain is still in it," Lacy said. "People still have doubts about Senator Obama's preparation. They don't want a Republican for another four years. And yet they really know McCain well and they trust him."
Lacy said in the next 60 days, if Obama can convince people he is ready for the job, he could win.
"Though it will be an extraordinarily tight race and he will win by a very thin margin," he said.
Copyright 2018 The Lawrence Journal-World. All rights reserved. This material may not be published, broadcast, rewritten or redistributed. We strive to uphold our values for every story published.