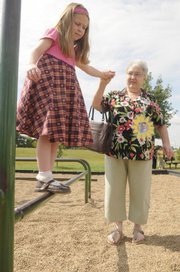 Have you hugged a grandparent lately?
Today would be a good day.
It's National Grandparents Day, the designated time to celebrate those family elders often known for their bear hugs, peanut butter cookies and dependable gift-giving.
"She's special because she's my grandma," 6-year-old Lilah Khan said Friday as she stood near her grandmother Sharon McElfresh in the play area at Sunflower School. The school opened its doors for students' grandparents Friday to celebrate the impending holiday.
As the grandparents watched over their grandchildren, all said they relish their role.
"It's wonderful," said McElfresh, who was visiting from Atchison. "With parenting, you have the responsibility of raising the children. With grandparenting, you have the responsibility of loving the children and spoiling them."
Eileen Fitch of Lawrence watched as her grandchild played on the monkey bars.
"It's delightful," she said of grandparenting. "You're able to step back and see the whole picture, and take advantage of the fact that you've been through it once and that helps to put things into perspective. ... It's fun to be with them, and it's nice to be able to give them back at the end of the day."
Carol Claycamp of Blue Rapids sat close to her 6-year-old grandson, Ryan Claycamp.
"It's the most special thing in the world," she said of being a grandparent to her seven grandchildren. "I have more time with them. With your kids, you're busy. With grandkids, you let everything go and just be with them."
Copyright 2018 The Lawrence Journal-World. All rights reserved. This material may not be published, broadcast, rewritten or redistributed. We strive to uphold our values for every story published.