-->
Audio Clips
KU vs. Louisiana Tech
Photo Gallery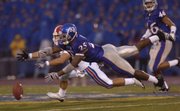 KU vs. Louisiana Tech
Candidates for Game balls
¢ Todd Reesing side-stepped and back-stepped the rush repeatedly and had the magic touch, completing 32 of 38 passes for 412 yards and three touchdowns.
¢ Dezmon Briscoe caught seven passes for 146 yards and a touchdown.
¢ Daymond Patterson turned eight receptions into 130 yards and two touchdowns.
¢ Kerry Meier caught nine balls for 71 yards.
Candidates for Gassers
¢ Jacob Branstetter missed an extra point, tainting a night in which he made all three field-goal attempts.
¢ Mike Rivera dropped an interception. OK, so he did play a role in a shutout, but somebody has to run gassers or a team can get soft.
Copyright 2018 The Lawrence Journal-World. All rights reserved. This material may not be published, broadcast, rewritten or redistributed. We strive to uphold our values for every story published.