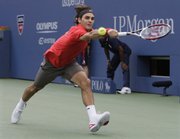 New York — As the losses piled up and titles escaped him, Roger Federer insisted he felt fine, he wasn't washed up, and his game would come around.
Oh, did Federer look good against Novak Djokovic in the U.S. Open semifinals.
Buoyed by a stellar start and a fantastic finish in a rematch of last year's final, Federer beat Djokovic, 6-3, 5-7, 7-5, 6-2, Saturday to move within one victory of a fifth consecutive U.S. Open championship and 13th Grand Slam title overall.
"One more match is all I need," he said.
He wasn't going to go to bed knowing the name of his next opponent. Tropical Storm Hanna hit the New York area in the afternoon, dumping enough rain to force the suspension of the semifinal between No. 1 Rafael Nadal and No. 6 Andy Murray in the third set. That match will resume this afternoon with Murray ahead, 6-2, 7-6 (5), 2-3, and the men's final was delayed a day until Monday for the first time since 1987.
The weather also forced the postponement of the women's championship match between Serena Williams and Jelena Jankovic, originally scheduled for Saturday night. Instead, that will be played tonight.
Federer was asked about his preferred foe for the final. A reasonable question, given that Nadal routed him in the French Open final, edged him 9-7 in the fifth set of the Wimbledon final and supplanted him atop the rankings last month after Federer's record 237-week stay at No. 1.
"Who do I prefer? I prefer the trophy, that's what I prefer," Federer said, drawing a roar of approval from the fans in Arthur Ashe Stadium.
And then came an answer that might surprise some.
"I guess I've got to say Rafa," Federer continued, "because we've had such great battles over the years. Wimbledon was unbelievable, so I hope we can do it again here."
Federer has won 33 straight matches at Flushing Meadows and reached 13 of the past 14 Grand Slam finals.
The one gap in that span was the Australian Open in January, when Djokovic upset Federer in the semifinals en route to the title. Perhaps that gave Federer extra motivation Saturday. Even Federer sensed the magic returning.
"I definitely had moments during today where I thought, 'This is how I would like to play every time,'" said Federer, who had 20 aces and only one double-fault despite swirling wind.
Copyright 2017 The Lawrence Journal-World. All rights reserved. This material may not be published, broadcast, rewritten or redistributed. We strive to uphold our values for every story published.