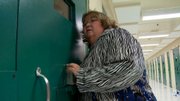 Wichita — Eyes peered through the narrow window in the cell door.
"I'm getting out tomorrow," said the man, little more than a disembodied voice shouting over the screams of neighboring inmates at the Larned Correctional Mental Health Facility.
He didn't mean out of prison - just out of the cell where he spends 23 hours a day. Officially known as "administrative segregation," inmates call isolation units such as these "the hole."
The 27-year-old has been in isolation since 2002 - a confinement prison officials say is necessary for security, but which research shows can worsen mental illness.
Increasingly, it's the mentally ill who end up behind bars. In Kansas and nationwide, prisons have become this country's largest mental health institutions.
Many inmates come out worse than when they went in, experts say - a greater threat to public safety and a drain on public resources.
Coming together
For the first time, the county's mental health providers and law enforcement are coming together to steer the mentally ill away from locked cells and into treatment, combating a complicated problem that's been building for decades.
Recently, Wichita police and Sedgwick County sheriff's deputies and jail detention officers were learning how to identify the mentally ill and provide alternatives to arresting them. The approach is based on a model that has succeeded in Memphis, Las Vegas and other cities.
In Kansas, nearly 9 in 10 inmates in state prisons - 7,690 - suffer from mental illnesses, according to the Department of Corrections.
"I'm not sure we ought to be the primary source of residential mental health services in the state," said Kansas Secretary of Corrections Roger Werholtz. "That's certainly not our mission."
In Sedgwick County, every convict coming out of prison and into the county's re-entry program needs mental health services, according to a report from Kansas University.
"It's like coming back from a war zone," said re-entry program director Sally Frey.
Prisons were meant to harbor criminals, not treat persistent mental illnesses or behavior disorders.
But nationally, the number of mentally ill inmates in state prisons has tripled in the past decade, according to the U.S. Bureau of Justice Statistics. In 1998, the bureau counted 179,200 mentally ill state prison inmates. By 2005, there were 705,600.
"It's not like they had a straight path to prison," said Richard Cagen, Kansas director for the National Alliance on Mental Illness. "They didn't have other resources. ... And once you're in the criminal justice system, it's difficult to get out."
But prison isn't the alternative mental health care that professionals imagined when state hospitals began closing in the 1960s in favor of community-based care.
The money for that treatment didn't materialize, Risdon Slate and Wesley Johnson write in their book "Criminalization of Mental Illness."
Instead, states paid to build more prisons.
Life in a cell
Checkerboard tiles cover some units at the Larned prison, where Kansas sends inmates with the most serious mental and behavior problems.
But only bare concrete covers the floor in administrative segregation.
Inmates there spend 23 hours a day in an 8-by-13-foot cell. When officers open the door for the 24th hour, they often receive an unpleasant greeting.
"The inmates have thrown urine out there until they have soaked tile right up off the floor," said warden Karen Rohling. "We just could not get tile to stick to the floor there."
The 27-year-old inmate who thought he would be getting out of isolation the next day came to Larned from solitary lockdown at the El Dorado Correctional Facility.
Larned wasn't intended to provide long-term care when it opened in 1992. But it does.
"Over time, because of changes at the state hospital and other places, we find we're keeping them longer and longer," Rohling said.
'Crisis cell'
Inmates in the hole can earn a television or radio for good behavior. For one hour a day, they are led in shackles outdoors, where they can walk in an 8-by-33 1/2-foot chain-link area inmates call "the dog run."
"You can walk back and forth in your cell two or three hours a day," said Morris Whittaker, 46, an inmate who lived in isolation at El Dorado and Larned prisons. "All the time you're trying to keep your calm and cool so you can do better things."
John Hawley, 46, who has served 27 years on convictions of rape and aggravated sodomy, has been at Larned since 1992. He's haunted by the memory of his wife, who died in surgery.
"I blame myself for that," he said. "I wasn't there for her."
Hawley still sees and hears his wife as part of his psychosis.
He briefly went to Larned's mental health hospital, which inmates call "the hill," but came back to the prison after an inappropriate relationship with a staff member.
He's now a porter, cleaning the F3 unit. That's where inmates move to transition from the hole. In F3, inmates may leave their cells for two hours and are trying to reach a point where they can join the general population.
Elston Taylor, 29, hears voices and responds by slitting his wrists. Taylor went to prison in 2002 for burglary in Sedgwick County. He served time in Hutchinson and Lansing before Larned.
At Lansing, he said his behavior landed him in the so-called "crisis cell."
"They take you over to the clinic and put you in a strip cell where you just get your boxers, a mattress and a security blanket," Taylor said.
Rehabilitated?
Most of these inmates will get out and move back into communities across Kansas - some after years in isolation.
"You can conceivably make their mental illness worse by isolating them too much," said Werholtz, the secretary of corrections.
Larned's goal is to get inmates out of isolation within six months. But some come from other prisons having lived that way for years.
Rohling, the warden, has heard this scenario many times:
In Larned, an inmate gets the newest drugs for his mental illness. But outside they're not covered by Medicare or Medicaid.
"He may have little choice but to go off his medication," she said.
The medications available outside often fetch more money being sold on the street than a person receives for rent or food. Parole officers say the mentally ill who can't work typically live off $241 a month in state financial assistance.
For extra money, they sell their pills, turning to alcohol or illegal drugs, such as methamphetamine and ecstasy - drugs that "do awful things to the mentally ill," Rohling said.
They return to prison and get treatment, "but we almost never get them back to the same level of functioning that they were on that first release," she said.
Werholtz added that the biggest challenge the prison system faces is what to do when sentences run out.
"We struggle with making sure that the men and women who are leaving our facility get a smooth transition and continuity of care, particularly medication maintenance, once they're released."
Copyright 2018 The Lawrence Journal-World. All rights reserved. This material may not be published, broadcast, rewritten or redistributed. We strive to uphold our values for every story published.