-->
Audio Clips
KU vs. Louisiana Tech
Photo Gallery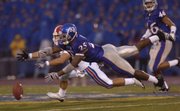 KU vs. Louisiana Tech
Did You See That?
Five minutes into the second half, Kansas sophomore receiver Dezmon Briscoe caught a short pass from quarterback Todd Reesing and broke five - yes, five - tackles on his way to a 48-yard touchdown reception that gave KU a 20-0 lead.
Difference Maker
The Kansas red-zone defense. The Bulldogs' first red-zone attempt ended in an interception by Jayhawks sophomore cornerback Chris Harris. A quarter later, after the Bulldogs had advanced to the Jayhawks' two-yard line, Tech was held to a field-goal attempt, which was missed by kicker Brad Oestriecher.
Did you know that...
¢ The Kansas defense has not given up a touchdown in two games this season.
¢ For the second straight week, junior running back Angus Quigley led the Jayhawks in rushing.
Copyright 2018 The Lawrence Journal-World. All rights reserved. This material may not be published, broadcast, rewritten or redistributed. We strive to uphold our values for every story published.