On the street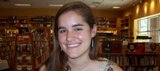 'Three Cups of Tea,' by Greg Mortenson. It's basically about a man who tried to summit K2 but stumbles upon a nearby village and falls in love. Then he returns with supplies over the next year to build a school for the children there.
Fiction
1. "Force Unleashed," by Sean Williams (Del Rey, $26). An apprentice to Darth Vader is dispatched to kill the last of his master's enemies; a "Star Wars" novel.
2. "Smoke Screen," by Sandra Brown (Simon & Schuster, $26.95). Scandalous deaths thwart the investigation of a fatal fire at police headquarters in Charleston, S.C.
3. "The Guernsey Literary and Potato Peel Pie Society," by Mary Ann Shaffer and Annie Barrows (Dial, $22). After World War II, a journalist travels to the island of Guernsey to meet residents who resisted the Nazi occupation.
4. "The Bourne Sanction," by Eric Van Lustbader (Grand Central, $25.99). Robert Ludlum's character pursues the leader of a terrorist group.
5. "The Host," by Stephenie Meyer (Little, Brown, $25.99). Aliens have taken control of the minds and bodies of most humans, but one woman won't surrender.
Nonfiction
1. "The Obama Nation," by Jerome R. Corsi (Threshold, $28). The Democratic candidate as an extreme leftist, from a co-author of "Unfit for Command: Swift Boat Veterans Speak Out Against John Kerry."
2. "Stori Telling," by Tori Spelling with Hilary Liftin (Simon Spotlight Entertainment, $24.95). A memoir.
3. "Are You There, Vodka? It's Me, Chelsea," by Chelsea Handler (Simon Spotlight Entertainment, $24.95). Humorous personal essays from the stand-up comedian.
4. "The Limits of Power," by Andrew Bacevich (Metropolitan/Holt, $24). A retired Army colonel argues that American citizens are ultimately responsible for the country's military and economic woes.
5. "When You Are Engulfed in Flames," by David Sedaris (Little, Brown, $25.99). The humorist's latest essays.
Copyright 2018 The Lawrence Journal-World. All rights reserved. This material may not be published, broadcast, rewritten or redistributed. We strive to uphold our values for every story published.