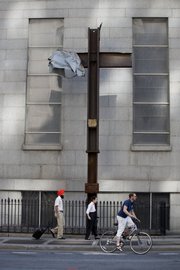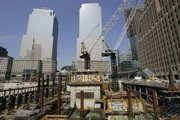 It is not a tidy anniversary this year. Seven years between that awful day and this Sept. 11, the terrorist attacks linger somewhere between the immediate, a conscious part of our days, and the comfortable remove of the distant past.
What happened seven years ago colors American life today. There are the two wars, of course. But in smaller ways, too: We weigh "evil" as a campaign issue. We slip off our shoes at airport security, buy the zip-top bag for liquids and gels.
And yet there is an unmistakable distance. Seven years means we are far enough away that Sen. Joe Biden can joke in a Democratic debate that former New York Mayor Rudy Giuliani only mentions three things in a sentence, "a noun and a verb and 9/11," and bring down the house.
Yet we are close enough that video of the towers' collapse is so painful it almost never airs anymore, and when it is shown, as in a montage at the Republican National Convention, it is utterly halting.
No one will forget. But when is it OK to move on?
For some, seven years means enough time to pick up, sometimes to pack up, to start anew.
Cathy Faughnan's husband, Christopher, a 37-year-old bond trader, was killed in the trade center. She was 37 then, too.
Now she is 44. Within two years after the attacks, she moved back to her home state of Colorado and has since remarried to a widower she met in New York shortly after Sept. 11.
For others, seven years is an instant.
One morning last month, Diane Horning saw a TV report speculating on the vice presidential prospects for Giuliani and was outraged: "He can't put two words together without talking about my son's death."
Her son was Matthew Horning, 26 years old, killed in the north tower. Tiny bits of his remains were recovered from the site and from the Staten Island landfill where a million tons of debris and human remains were taken. She is appealing the dismissal this summer of a lawsuit that would require the city to move the material at the landfill to a separate burial plot.
"I just can't stop," Diane Horning says. "I need my son to be treated with dignity."
Exactly how much the nation has changed since Sept. 11, 2001, is a matter of perspective.
"There were economic changes, psychological effects," says Alfred Goldberg, who retired last year as the Pentagon's chief historian, and who points to the wars in Afghanistan and Iraq.
He says he believes the tragedy of Sept. 11 was compounded by the national response, and perhaps by an exaggeration of the threat posed by al-Qaida. "We are in many ways a very changed nation because of those attacks," he says.
Evil. That the word resonates in American life and politics is a sign we are not too far removed from that day. It came up as a specific campaign issue just last month.
Rick Warren, pastor of Saddleback Church in California, asked: "Does evil exist? And if it does, do we ignore it?"
Sen. John McCain answered, "Defeat it." Sen. Barack Obama said it exists in many places, citing Darfur and child abuse, and that it is "God's task" to erase it from the world.
The months after the attacks were not kind to the airline industry, and about a year later, Delta opted to save a little money by replacing its linens in first class with paper trays. Flight attendant Jewel Van Valin decided to pass out crayons.
Back then they drew firefighters and airplanes, and they wrote, "In God We Trust."
Now they draw palm trees and destinations. They draw moving on.
Copyright 2018 The Associated Press. All rights reserved. This material may not be published, broadcast, rewritten or redistributed. We strive to uphold our values for every story published.