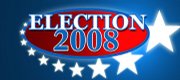 In-depth coverage of the candidates and the issues, all leading up to the Aug. 5 primary and the Nov. 4 general election.
Hutchinson — Democrat Jim Slattery and Republican U.S. Sen. Pat Roberts dueled Saturday over the economy, war, energy and illegal immigration before a boisterous and wet crowd at the Kansas State Fair.
"Sen. Roberts has had 40 years to figure out Washington, and I'm just asking for six to try and fix it," Slattery said during the debate that took place during a light, steady rain.
But Roberts derided Slattery as a "millionaire Washington lobbyist," adding, "I am proud of my record for this state. I have never stopped working for you."
The two face each other in the Nov. 4 general election for a seat in the U.S. Senate.
Roberts, 72, who started as a congressional staffer in 1967, was elected to the House in 1980 and the Senate in 1996. Slattery, 60, served in the state legislature and then the U.S. House from 1983 to 1995. In 1994, he unsuccessfully ran for governor and then lobbied in Washington, D.C.
So far, Roberts has maintained a solid lead in the polls, but Slattery said he believes the race will tighten up as Kansans focus more attention on the contest.
Several hundred supporters of both candidates packed the outdoor AT&T; arena, although most sought seats protected by an overhang and out of the chilly rain.
Run-up to war
The two politicians argued sharply about the war in Iraq.
Slattery blamed Roberts, who chaired the Senate Intelligence Committee during the run-up to the war, for failing to discern the now discredited intelligence used by President Bush, who had said Iraq had weapons of mass destruction.
"He and his committee got it all wrong on the intel data," Slattery said. Those mistakes, he said, have overstretched the military and strengthened Iran. "There has to be accountability when our political leaders make these terrible mistakes," he said.
But Roberts said everyone was wrong on the intelligence, and it was his committee that brought the errors to light and put reforms in motion.
"Jim, you wouldn't even know about this information unless for the fact that I released it," Roberts said.
Fiscal policy dominates
The two spent much of the one-hour debate arguing over fiscal policy.
Roberts accused Slattery of voting for the largest tax increase in the history of the nation while he was serving in the U.S. House during the administration of President Clinton.
But Slattery said that tax increase was on the highest wage earners, helped reduce the deficit and started an enormous economic expansion.
Slattery said Roberts supported the "reckless" policies that combined the Bush tax cuts for the wealthy and government spending increases that have ballooned the national debt.
"The spend-and-borrow philosophy has to end. This is immoral. This is intergenerational robbery, and it has to stop," Slattery said.
Roberts criticized Slattery's complaints. "We've just heard a standard class warfare speech. I better start calling you Robin Hood," Roberts said. He said the Bush tax cuts helped Kansans and helped reduce the budget deficit.
Illegal immigration
On illegal immigration, Roberts accused Slattery of supporting amnesty while in Congress, but Slattery said the bill he voted for was also supported by top Republicans at the time, including Sens. Bob Dole and Nancy Kassebaum, both of Kansas, and signed into law by President Reagan. He said if that law had been enforced, there wouldn't be an illegal immigration problem now.
On energy, both said they support increased drilling, although Roberts said Slattery doesn't support drilling in Arctic National Wildlife Refuge, while Slattery accused Roberts of voting against fuel efficiency standards in vehicles until recently when the election campaign season started.
Copyright 2018 The Lawrence Journal-World. All rights reserved. This material may not be published, broadcast, rewritten or redistributed. We strive to uphold our values for every story published.