-->
Audio Clips
KU vs. Louisiana Tech
Photo Gallery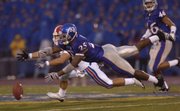 KU vs. Louisiana Tech
-->
-->
11:54 p.m.
The Mark Mangino postgame press conference has been posted. More to come later, along with the Keegan Ratings.
Final, KU wins 29-0.
Two more rushes by Quigley ends the game. KU improves to 2-0 with impressive performances by both Reesing and the Jayhawks' defense.
Check back on KUsports.com for audio interviews and a postgame Spodcasters.
1:42 left in the fourth quarter, KU leads 29-0
Wow, Quigley is running well. After taking an 11-yard screen for a first down on a third and 11, he broke off a 20-yard run that was called back by a holding penalty. It will be interesting to see what coach Mark Mangino says after the game about Quigley. As I type this, Quigley just blasted another 18-yard run up the middle.
6:34 left in the fourth quarter, KU leads 29-0
KU's defense forces another punt. Angus Quigley continues to run well in the KU backfield. Who is the Jayhawks' top back? With the KU running game, there seem to be more questions than answers.
12:48 left in fourth quarter, KU leads 29-0.
The two teams exchanged punts. Tech to take over at its own 16-yard-line. We will see if KU can keep the shutout.
1:21 left in third quarter, KU leads 29-0.
Patterson took a Reesing pass 39 yards into the end zone to add to the rout. Branstetter missed the point-after.
4:54 left in third quarter, KU leads 23-0
Helped by a 44-yard reception by Patterson, KU tacked on Branstetter's third field goal - this one 26 yards - to extend the Jayhawks' lead.
9:01 left in third quarter, KU leads 20-0
The Bulldogs answered right back, as Livas broke free in the secondary for a 78-yard run, the fifth-longest in Tech history. KU's defense once again held strong in the red zone, pushing Tech back four yards over the next three plays. Tech kicker Brad Oesriecher missed a tough-angle, 23-yard field goal, much to the delight of the Memorial Stadium crowd.
10:14 left in third quarter, KU leads 20-0
Briscoe extends KU's lead with the play of the year so far. After catching a pass at the Tech 41, he twisted and turned, spinning off five potential tackles for a 48-yard TD catch. Should be an ESPN Top-10 play tonight. A neat moment as, on the replay, the KU fans counted the missed tackles, "One, two, three, four :" Branstetter point-after. KU now in control.
10:28 left in third quarter, KU leads 13-0
After a KU punt, Mike Rivera drops a near-interception inside the Tech 20. KU still forces a three-and-out, and Patterson uses a nice return to put KU at the Tech 48.
14:36 left in third quarter, KU leads 13-0
A video review overturned a Livas fumble that would have given KU the ball at the Tech 22. Instead, the Jayhawks force a punt and take over at their own 38.
KU HALFTIME LEADERS
Passing: Todd Reesing 19-for-24, 217 yards, TD
Rushing: Jake Sharp 6 carries, 23 yards
Receiving: Kerry Meier 6 catches, 56 yards
Dezmon Briscoe 5 catches, 90 yards
LA. TECH HALFTIME LEADERS
Passing: Taylor Bennett 8-for-22, 91 yards
Rushing: Taylor Bennett 3 carries, 25 yards
Receiving: Patrick Livas 2 catches, 30 yards
Be sure to check out the new poll on the side of the page.
At halftime, it looks like Louisiana Tech will need to capitalize on a KU mistake to get back into this one. If the Jayhawks can avoid turnovers, they should be able to stay in control.
Halftime, KU leads 13-0
KU's defense works around an offsides penalty to force a punt. The Jayhawks take no chances at their own 9-yard-line, running a draw play to take us to halftime.
1:36 left in second quarter, KU leads 13-0
Reesing captains another effective drive that ends with a 25-yard field goal from Branstetter. Reesing now a video-game-like 19-of-24 for 217 yards. The Jayhawks' pass blocking was exceptional, though the bad news is that KU still can't get the running game going. As of now, just 39 yards on 14 carries. That's only 14 yards more than Tech quarterback Bennett, who isn't fast by any stretch of the imagination.
6:45 left in second quarter, KU leads 10-0
KU defense steps up to get quick three-and-out. The momentum seems to be shifting quickly in the Jayhawks' favor.
7:38 left in second quarter, KU leads 10-0
Who needs the running game? Reesing engineers a nearly flawless drive, going 6-for-6 for 72 yards. Crawford provides a nice block to set up a 14-yard pass to Briscoe before the drive ends on a nicely placed throw to Patterson for a 3-yard TD reception. The Jayhawks had just two rushes for eight yards in the eight-play possession.
10:40 left in second quarter, KU leads 3-0
Bennett starting to settle in, threading the needle on an 11-yard completion to Dustin Mitchell on a third and eight at the KU 31. The not-so elusive Bennett later runs 14 yards on a scramble for another third-down converstion on a third and nine. The Jayhawks get another fortunate bounce with Tech driving at the KU 6, as Bulldogs wide receiver Anthony Harrison bats up a pass in the end zone that KU's Chris Harris catches on the deflection. The Jayhawks to take over at the Tech 20. The Bulldogs' possession, however, took nine minutes, 23 seconds.
End of first quarter, KU leads 3-0
Louisiana Tech with three first downs on this drive already, moving the ball to the Tech 45. The Bulldogs offense looks to be gaining some confidence. Tech also is shortening this game with its ball control offense. The fewer possessions, the better for the Bulldogs if they hope to stay close.
1:25 left in first quarter, KU leads 3-0
KU cornerback Kendrick Harper was taken to the locker room on a stretcher. Defensive end Caleb Blakesley also just limped off the field with an injury. Not a good sign for the Jayhawks.
5:03 left in first quarter, KU leads 3-0
KU is helped by a huge break on a freak play. After catching a pass over the middle, Daymond Patterson fumbled the ball into the air. Tech's Terry Carter tried to pin the ball against his shoulder pads, but it squirted by him, and Dezmon Briscoe grabbed the ball in mid-air to get the recovery. KU's lack of a running game haunts it again, though, as Jocques Crawford is stuffed at the line on a fourth and one at the Tech 12. KU has just nine rushes for 26 yards at this point.
8:35 left in first quarter, KU leads 3-0
Louisiana Tech offense shows some life, as wide receiver Patrick Livas shows some of his play-making ability with a 22-yard reception. KU's offense buckles down after that, though, forcing Tech to turn it over on downs at the KU 38.
10:38 left in first quarter, KU leads 3-0
KU quarterback Todd Reesing looks sharp early on the first drive, with his best throw coming on a 25-yard touch pass down the sideline to Dezmon Briscoe on a third and four. The drive stalls in the red zone after Johnathan Wilson and Kerry Meier can't hold on to tough catches on consecutive plays. The just-turned-eligible Jacob Branstetter shows no nerves in knocking through a 28-yard field goal to give KU the early lead.
6:06 p.m.
Louisiana Tech helmet is demolished on the videoboard by firepower and not the Orange Bowl trophy (like Week 1). The fans seem happy with the change back.
5:58 p.m.
Rain coming down at a steady pace. We should see quickly if KU's running game is improved from last week.
5:47 p.m.
Jacob Branstetter was just announced as the starting kicker on the scoreboard. Interesting, especially considering Alonso Rojas' performance last week. I would assume KU coach Mark Mangino might still throw Rojas out there in long field-goal situations.
Jeremiah Hatch also was announced as the starter at right tackle. We'll see if that makes a difference on KU's offensive line. I'm thinking it might.
5:35 p.m.
I saw some people list their predictions of the score in the comments section. Feel free to do that. Then, after the game, feel free to brag about your correct score in the comments as well.
I have KU winning 48-17. I know Louisiana Tech is better than FIU, but I have a feeling the Jayhawks play much better this week on offense and take control from the start.
Let's see your guys' thoughts. And also make sure to vote in the poll on the side of this page.
5:00 p.m.
Greetings from Memorial Stadium, where Kansas is getting ready for Week 2 against Louisiana Tech.
A few things to look for on gameday:
¢ Can Louisiana Tech's special teams keep it close? Derek Dooley, before becoming the head coach at Louisiana Tech, was the special teams coordinator for LSU. Obviously, the Bulldogs have made this a huge focus, and it showed last week. Kicker Brad Oestriecher had three field goals, including a 48- and a 50-yarder, and Tech also forced two Mississippi State fumbles on returns. The Bulldogs' special teams will have to be great to have a chance against KU.
¢ Will KU stretch the field? The Jayhawks were content to nickel and dime their way down the field against FIU last week without taking too many chances on passes deep. Will that continue this week against another good secondary in Louisiana Tech? KU has to be careful, as Tech forced five turnovers against MSU last week, and the wet, misty conditions here won't exactly make deep passes any easier. At the same time, the Jayhawks need to stretch the field at least a little to keep defenses honest (and also to help the running game).
¢ Will Louisiana Tech quarterback Taylor Bennett get in a groove? From all indications, the Georgia Tech transfer is better than his 14-for-40 performance last week. KU's defense shouldn't make it easy on him this week, but Bennett started all 13 games for the Yellow Jackets last year and shouldn't be intimidated by the atmosphere. Keep this in mind as well: Bennett wasn't sacked once in last week's game. It will be interesting to see if KU's defensive line can build on its solid Week 1 performance.
More to come from Memorial Stadium as we get closer to game time.
Copyright 2018 The Lawrence Journal-World. All rights reserved. This material may not be published, broadcast, rewritten or redistributed. We strive to uphold our values for every story published.