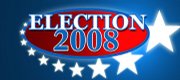 In-depth coverage of the candidates and the issues, all leading up to the Aug. 5 primary and the Nov. 4 general election.
Washington — Democratic Rep. Nancy Boyda and Republican rival Lynn Jenkins have agreed to meet in five debates before the Nov. 4 election.
The candidates in the state's 2nd District congressional race will hold their first debate on Sept. 27 at Pittsburg State University. That will be followed in later weeks by two meetings in Topeka and one each in Lawrence and Leavenworth.
Boyda is seeking a second term in office after defeating former GOP Rep. Jim Ryun in 2006.
Jenkins, the state treasurer, beat Ryun in the Republican primary last month.
The district, which includes western Lawrence, Topeka, Manhattan and much of southeastern Kansas, leans Republican and Boyda's seat is a top target of GOP strategists.
Copyright 2018 The Lawrence Journal-World. All rights reserved. This material may not be published, broadcast, rewritten or redistributed. We strive to uphold our values for every story published.