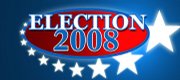 In-depth coverage of the candidates and the issues, all leading up to the Aug. 5 primary and the Nov. 4 general election.
Minneapolis — Republican vice presidential candidate Sarah Palin on Thursday blamed supporters of the Democratic presidential ticket for spreading "misinformation and flat-out lies" about her and her family.
But her spokeswoman said Obama's campaign was not responsible, even though a Palin fundraising letter named the Democratic ticket with the words: "the Obama-Biden Democrats have been vicious in their attacks directed toward me, my family and John McCain."
The Obama campaign has raised questions about Palin's qualifications based on her six years as mayor of Wasilla, Alaska, and less than two years as governor, but Obama himself has said her family should be off-limits.
He also said he would fire any staffer who talks about it.
Palin spokeswoman Maria Comella said: "We appreciate the fact that he came out and condemned this kind of personal attack."
Asked whether Palin thought Obama or his running mate, Delaware Sen. Joe Biden, were responsible for the attacks mentioned in the letter, Comella said, "No."
Asked who was to blame, the spokeswoman said, "You want me to tick through all the stuff that's been ticking through all the blogs the past few days? What about the stuff that was on Daily Kos, that rumor that was spread?"
Obama campaign spokesman Bill Burton said "the only 'flat-out lie' is this ridiculous claim, and it proves that John McCain has wasted no time in teaching Sarah Palin the ways of the Washington he's inhabited for the last 26 years."
By acclamation, the Republicans nominated Palin as their vice presidential pick Thursday night, an almost anticlimactic step after McCain's surprise selection of her last Friday and her speech Wednesday night.
Palin met with Republican governors Thursday and said that leading a state means you have to make decisions and not just vote "present."
"We are expected to take action and not just vote 'present,"' said Palin, who is in her first term as Alaska's governor. "So there's a big difference, of course, between the executive and legislative branches and our experience."
Copyright 2018 The Associated Press. All rights reserved. This material may not be published, broadcast, rewritten or redistributed. We strive to uphold our values for every story published.