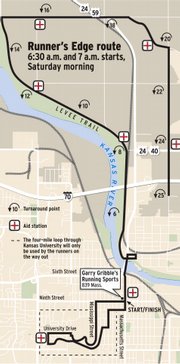 Legions of cars, minivans and SUVs will be rolling into Lawrence early Saturday morning, and tailgating won't be the first thing on the drivers' minds.
About 200 members of The Runner's Edge, a training program for runners in the Kansas City metro area, will be coming to town for a weekly group workout, which offers members an opportunity to run anywhere from two to 25 miles.
About 80 percent of the program's participants are training for a specific race, typically either a half marathon or a full marathon, and count on the group runs for support, advice and consistent conditions, said Eladio Valdez III, the program's owner and coach.
Runners participate in desired pace groups during training, which both prepares runners for finishing their races at their desired times and allows individuals with similar goals and schedules to share their experiences.
"It is so much more enjoyable to take on a challenge with someone else," Valdez said.
While the bulk of the program's training runs are scheduled for parks and communities closer to the Kansas City metro area - Valdez himself lives in Shawnee - the group manages to venture as far as Lawrence on occasion.
Valdez is a Kansas University graduate and doesn't mind taking an opportunity to show off the campus of his alma mater, the community of his college days and the present home of the defending Orange Bowl champions and NCAA men's basketball titleists.
Valdez said that program members enjoy the relatively flat, scenic running route that includes a loop through the KU campus, a trip through downtown and treks onto the Kansas River levee trail.
"The levee trail is one of the all-time great trails that we ever do," he said. "They love the route."
Lawrence also has plenty of dining, entertainment and shopping options available for runners once the day's training is complete, he said. The first runners will start at 6:30 a.m., and most will be back to the start - Garry Gribble's Running Sports, 839 Mass. - by 11:30 a.m.
Some may even manage to cool down and gear back up for KU's 6 p.m. kickoff against Louisiana Tech at Memorial Stadium.
"The diehard Jayhawks fans in our group will stick around," he said.
Also running
While members of The Runner's Edge - TheRunnersEdge.net - are coming to Lawrence this weekend, another program already is operating in town.
The program, EZ8 Running Camp, is designed for women, including beginners. The camps go from 5:30 a.m. to 6:30 a.m. three days a week for eight weeks. Special programs include training for a half marathon. For more information, visit RunEZ8.com or call 550-4388.
Copyright 2018 The Lawrence Journal-World. All rights reserved. This material may not be published, broadcast, rewritten or redistributed. We strive to uphold our values for every story published.