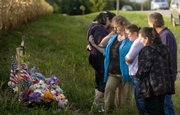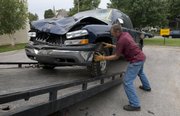 The trial
Ramona I. Morgan faces two reckless second-degree murder charges and one aggravated battery charge for a Sept. 11, 2007, hit-and-run in a U.S. Highway 59 construction zone south of Lawrence. Her jury trial continues Monday.
The 3 victims:
¢ Tyrone Korte, 30, Seneca, an inspector for the Kansas Department of Transportation, died at the scene.
¢ Rolland "Ron" Griffith, 24, El Dorado, a construction worker for Dustrol Inc., died at the scene.
¢ Curtis Delzell, a Dustrol Inc. construction worker, was injured at the scene.
During cross-examination Friday, a Douglas County prosecutor accused a murder defendant of being angry and sleep-deprived when she struck and killed two highway construction workers on Sept. 11, 2007.
"I honestly didn't see any people," replied defendant Ramona Morgan, 49, of Washington state, who faces two reckless second-degree murder charges.
Before a packed courtroom, she insisted that she struck orange-and-gray construction barrels and said people were chasing her and trying to kill her while driving south on U.S. Highway 59 near Pleasant Grove that day.
During questioning, David Melton, a chief assistant Douglas County district attorney, said Morgan was tired and upset from driving across the country, only to be disappointed with land she intended to purchase near Eldridge, Mo.
Morgan's testimony, in her own defense, capped an eventful fourth day of the murder trial, where she is accused of running over construction workers Tyrone Korte, 30, of Seneca, and Rolland Griffith, 24, of El Dorado. Some of the day's key events were:
¢ Kansas Bureau of Investigation forensic scientist Karen Oyerly testified that DNA from Korte and Griffith was found in the damaged front end of Morgan's Chevrolet Silverado.
¢ Two Kansas Highway Patrol troopers testified that Morgan was driving more than 50 mph when, they said, she struck Korte and Griffith, throwing their bodies more than 115 feet.
¢ Deputy coroner Altaf Hossain testified that Korte and Griffith suffered fatal brain injuries. He also said the injuries were consistent with the damage he noted in Morgan's pickup truck.
¢ Jurors also viewed the damaged truck.
Taking the stand
During testimony, Morgan said that on Sept. 10 she had driven to central Missouri to buy land and a mobile home, but she was not satisfied with the condition. She then said as she drove across Missouri to try to return to Washington, a group of vehicles kept harassing her on the road, and she said a man shot at her.
Morgan also said she felt police in Missouri were not trying to help her.
During a brief stop at a hotel in Gardner during the early morning hours of Sept. 11, she said a man was looking at her truck, which again frightened her. She was carrying cash to make the real estate transaction.
Morgan said hours later she was driving on a two-lane paved road when a woman with a stop sign started striking her truck. She also saw a vehicle coming from behind her, which startled her.
Construction worker Amanda Hopper has testified that she struck the truck with her stop sign because the driver was disobeying her orders in the construction zone near North 900 Road and U.S 59. But Morgan said she felt threatened.
"I was trying to get out of there. I thought they were connected to ones that were trying to kill me in Missouri, and their actions led me to believe that they were trying to kill me," she said.
During the incident, Morgan also said a man "poured gasoline" on her, and she said people were throwing things at her truck, causing glass and the windshield to break.
"Did you remember striking anybody?" asked Morgan's defense attorney Billy Rork.
"No," Morgan said.
Morgan and her daughter, Sabrina, 27, who was a passenger in the truck during the incident, were later arrested on U.S. Highway 56 in Osage County when stop sticks punctured the tires.
Earlier Friday, KHP Technical Trooper Kristian J. Keberlein explained to jurors the process of examining the 2002 Chevy Silverado's airbag control module, which is similar to the black box investigators examine following a plane crash.
Trooper Kip Ballinger said taking into account the size of the tires on Morgan's truck, the module showed that 5 seconds before impact Morgan was traveling 40 mph. In those 5 seconds, Ballinger said Morgan accelerated to at least 51 mph. Keberlein testified that the information they retrieved from the truck also showed Morgan never touched the brakes and that she was accelerating at the time of impact.
Defense continues
Rork, who has tried about 40 murder trials as a defense attorney, said this case was unusual because drugs or alcohol are not alleged to be a factor. Prosecutors also don't allege Morgan's actions were intentional but reckless. But he said the fact that it's a traffic-related homicide trial doesn't make it different from a shooting or stabbing case.
"Any death is hard to defend because you just have the fact that there's a death," Rork said.
The challenge for the defense is to try to persuade jurors to consider the facts instead of finding sympathy with someone, he said.
Family members of Griffith and Korte have sat through tough moments of testimony, including autopsy photos on Friday and ones from the scene on Wednesday.
Griffith's family, including his wife, Melissa M. Griffith, and his father, Mark Griffith, visited a roadside memorial for the two men late Friday afternoon. Mark Griffith used a marker to trace his son's name to make it more visible.
Rork will continue presenting evidence Monday morning, and he is expected to call Sabrina Morgan to the stand to play a 911 call she made to Douglas County dispatchers.
Rork expects closing arguments to be sometime Monday.
Key players participating in hit-and-run trial
Prosecutors
¢ David Melton - One of two chief assistant Douglas County District attorneys. He helped win a first-degree murder conviction earlier this year of Lafayette Cosby for shooting Robert Martin, after a state Supreme Court decision overturned a 2004 conviction.
¢ Eve Kemple - Formerly handled domestic violence cases in the district attorney's office, and she helped win a second-degree murder conviction of Christopher Belone in 2007 for beating his girlfriend.
Defense
¢ Billy Rork - A well-known Kansas defense attorney from Topeka with more than 30 years of experience. He specializes in criminal defense and traffic violation cases.
Judge
¢ Paula Martin - A Douglas County district judge first appointed in 1994. She presided in the 2007 murder trial of Rashawn Anderson, who was convicted of second-degree murder for shooting and killing Robert Williams, and Martin sentenced him to serve more than 15 years in prison.The Kansas Commission on Judicial Performance has recommended that Martin be retained in the November election.
Defendant
¢ Ramona Morgan - A 49-year-old Washington state woman accused of running over and killing two construction workers south of Lawrence on Sept. 11, 2007. An Osage County jury has convicted her of fleeing from law enforcement in a chase after the alleged Douglas County events.
Witnesses
¢ Dustrol, Inc. construction crew - Multiple workers have testified that Morgan's truck drove twice through the construction zone, and at least three have identified her as the driver.
¢ Sabrina Morgan - Ramona's daughter, who was in the truck as a passenger, said her mother was worried that people were chasing them as they drove through Missouri and Kansas.
¢ Todd Brooks - A trooper with the Kansas Highway Patrol testified Thursday that he stopped Ramona Morgan near Scranton, Kan., more than 25 miles from the scene of the accident. Brooks said Tyrone Korte's cell phone was found stuck in the grill of the truck.
¢ Karen Oyerly - A Kansas Bureau of Investigation forensic scientist testified Friday that DNA of Korte and Griffith were found on Ramona Morgan's truck.
¢ Kristian J. Keberlein and Kip Ballinger - Technical troopers with the Kansas Highway Patrol determined Morgan was driving more than 50 mph when she struck the two workers.
They testified Morgan never touched the brakes and was accelerating at the point of impact, throwing the workers more than 115 feet down the highway.
Copyright 2018 The Lawrence Journal-World. All rights reserved. This material may not be published, broadcast, rewritten or redistributed. We strive to uphold our values for every story published.