Photo Gallery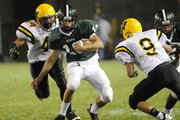 Free State vs Shawnee Mission West
The Lawrence Free State Firebirds lost to Shawnee Mission West 19-40 in the Firebirds home opener at Haskell Stadium Friday, Sept. 5, 2008.
What once was a game got out of hand in a hurry.
In its wake, an angry Free State High football team kneeled in the end zone, embarrassed and devastated by a 40-19 loss to Shawnee Mission West Friday night at Haskell Stadium.
"It's disappointing," senior tailback Jack Caywood said. "I'm a little surprised that more guys didn't step up tonight."
There were a handful of highlights for the Firebirds on Friday night, but you never would have known it from the body language shown by the players and coaching staff as the game wore on. Eyes rolled, heads dropped, shoulders shrugged. This one got so bad that Free State coach Bob Lisher only spoke to his team for about four minutes after the game.
What made all of the negative aspects of Friday's contest all the more difficult to swallow was that, as bad as they played, Free State actually had a shot to win the game.
"We weren't clicking either way and yet we still have a chance to win it," Lisher said.
Free State took a 6-0 lead on its second drive of the game after a two-yard touchdown run from Caywood. The FSHS senior got the start in place of fellow-senior Chucky Hunter, who sat out the first two offensive drives of the game because of a sore back. Caywood's two-yard plunge was set up by an interception and 27-yard return from senior cornerback Cameron Schmidt.
West responded by scoring the final nine points of the first half, the first three on a 25-yard field goal from Justin Scott and the final six on a 76-yard scamper from quarterback DJ Balazs.
In the second half, West scored on runs of 49, 60 and 65 yards and added a 93-yard interception return for good measure.
Most of the damage came from 6-foot-2, 205-pound senior Darron Harvey. After a early fumble derailed Harvey's roll, the Vikings' tailback was a machine the rest of the way. He finished the night with 275 yards on 23 carries and left the Free State coaches scratching their heads about what went wrong.
"We had people there," Lisher said. "We just didn't squeeze them down and Shawnee Mission West did a good job of capitalizing on it."
In all, the Vikings rushed for 383 yards and racked up more than 430 yards of total offense.
The biggest blows came late in the game and made it seem impossible to believe that Free State was driving for the go-ahead score with less than six minutes to play. After West took a 24-13 play on Harvey's 49-yard touchdown run with 11:08 to play in the fourth quarter, junior transfer Keene Niemack provided Free State with the spark it needed. Instead of kicking deep to Hunter, who had not hurt them all night, the Vikings chose a directional kick to the Free State sideline. Niemack fielded the kick at the 24, took a head-first pop at the 30 and bounced inside before cutting it back outside and racing to the end zone in front of the Free State sideline.
In addition to a 34-yard halfback pass from Camren Torneden to Preston Randolph that set up the Firebirds' second touchdown, Niemack's return was the highlight of the night.
"On those plays, we executed," Caywood said. "We did what we were supposed to do, and when you do that, good things happen."
Free State held West three-and-out on the ensuing possession and took over at its own 42 with 8:29 to play. Schmidt and Hunter then alternated carries and the Firebirds marched down to the SM West 15-yard line. On third-and-10 from the 15, Schmidt's pass was picked off by Ray Brenson, who flew 93 yards for a touchdown and a 31-19 SMW lead.
The miscue proved to be the back-breaker, as the Firebirds were noticeably shaken the rest of the way and seemed to give up.
"I sensed that, yeah," Caywood said. "And to be honest with you, it made me mad."
Free State never threatened again and West tacked on a couple more scores to set the final margin.
After the game, an angry Lisher did his best to keep things in perspective.
"This is Game No. 1," he said. "It's not the way we wanted to start the season but it's the way it started. I'm not happy. The players aren't happy and we have to get it fixed, starting Sunday."
Asked if the late-game switch at quarterback, from Schmidt to Torneden, was any indication of the approach Lisher planned to use, the Free State coach did not mix words.
"Absolutely," he said. "When you have a situation like this you have to shake things up a little bit. We might have a few guys who are a little too comfortable and maybe it's time we created some competition in practice to make them earn their spots."
Copyright 2018 The Lawrence Journal-World. All rights reserved. This material may not be published, broadcast, rewritten or redistributed. We strive to uphold our values for every story published.