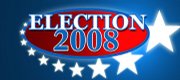 In-depth coverage of the candidates and the issues, all leading up to the Aug. 5 primary and the Nov. 4 general election.
The speakers for Kansas Editors Day at Kansas University won't be lecturing.
For the first time, they'll be debating.
Three panelists will face off on the media's role in presidential campaigns at 1:30 p.m. Saturday at Alderson Auditorium in the Kansas Union.
Scheduled to appear are Walter Shapiro, Salon.com's Washington bureau chief; Democratic media adviser Raymond Strother; and Bill Lacy, former presidential campaign manager for Fred Thompson and director of KU's Dole Institute of Politics.
David Guth, associate dean of journalism and the panel's moderator, said the three speakers represented a good cross-section of players from the national political scene.
"We have someone with a red-state view, someone with a blue-state view and a journalist," he said. "How can the discussion be anything but lively?"
The panel will touch on subjects like the changing media coverage of the presidential race and the sway new technology has over the running of campaigns.
Shapiro has covered the last eight presidential elections for publications ranging from Newsweek to The Washington Post. Strother guided the media campaign for Gary Hart's 1984 and 1988 presidential bids. Lacy recently returned to the institute after a leave of absence to manage the presidential campaign of Thompson, a former Tennessee senator.
Guth said by having a discussion focused on this year's presidential election - which he called the most fascinating in recent memory - he hoped to get a younger generation interested in politics.
"Obviously this race is thick with racial, gender and generational issues," Guth said. "I think we're going to be touching on all of those."
Shapiro said the panelists' experience with past elections would offer some perspective on the current race.
Editors Day is an annual event hosted by KU's School of Journalism. About 75 journalists, KU faculty, students and community members are expected to attend.
The panel is free and open to the public. For more information, call 864-4755.
Copyright 2018 The Lawrence Journal-World. All rights reserved. This material may not be published, broadcast, rewritten or redistributed. We strive to uphold our values for every story published.