Photo Gallery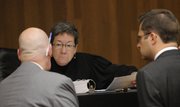 Morgan Trial
A woman accused of killing two highway workers and injuring a third didn't stop until she was more than 25 miles away from the scene of the fatal accident, according to a Kansas Highway Patrol trooper.
The trooper's testimony came during the third day of trial for 49-year-old Ramona Morgan.
Morgan is charged with two counts of second-degree murder and one count of aggravated battery in connection with the Sept. 11, 2007, accident in a construction zone on U.S. Highway 59.
Trooper Todd Brooks told jurors he heard the description of the vehicle involved in the accident and began following a truck with heavy front-end damage and a smashed windshield just west of Overbrook.
Brooks testified that Morgan, whom he identified in court Thursday as the driver of the truck, did not pull over until stop sticks were used to flatten her two front tires south of Scranton in Osage County.
When troopers searched the vehicle for evidence, they found 30-year-old accident victim Tyrone Korte's cell phone stuck in the grill of the truck.
Korte and 24-year-old Rolland Griffith were both killed as they worked on a repaving project on U.S. Highway 59 near Pleasant Grove.
Earlier in the day, Morgan's daughter Sabrina testified that her mother was frightened that someone was chasing them across Missouri and Kansas the day leading up to and during the fatal hit-and-run accident.
Sabrina Morgan, 27, under subpoena from prosecutors, briefly testified about being a passenger in a truck that her mother drove.
But Eve Kemple, an assistant Douglas County district attorney, never asked Sabrina Morgan whether her mother struck two people while driving through the construction zone that morning on U.S. Highway 59 about five miles south of Lawrence.
With short answers to questions and long pauses, as her eyes darted around the courtroom, Sabrina Morgan recounted how she came with her mother to buy property in Missouri, but they were upset with the condition of the land.
She said her mother also had called 911 in Missouri because she believed someone was chasing them and trying to shoot at them. The Morgans stayed the night at a Gardner hotel on Sept. 10, and Ramona Morgan believed someone was looking at their pickup truck in the parking lot.
Sabrina Morgan said she had not slept much during those days because her mother wouldn't let her rest because she said she was being chased.
Sabrina Morgan was originally charged with aiding a felon in Osage County, but the charges were later dropped.
The trial in District Judge Paula Martin's courtroom is expected to last into next week.
Copyright 2018 The Lawrence Journal-World. All rights reserved. This material may not be published, broadcast, rewritten or redistributed. We strive to uphold our values for every story published.