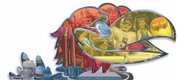 From artists to inventors, Kansas University is home to all kinds of people. In the past year, the university has opened new buildings and hosted world-renowned speakers. Come inside to learn more about the university on top of Mount Oread
Kansas University is celebrating "record-breaking" enrollment numbers this semester.
"It is my prediction, based on early returns, that KU will have a year of special success," Chancellor Robert Hemenway said Thursday before about 200 faculty and staff during the annual convocation in Budig Hall.
Under Kansas Board of Regents guidelines, KU can't release official numbers until the 20th day of class. However, Hemenway and Provost Richard Lariviere believe KU could be setting a record this year.
Lariviere said KU was teaching 8,129 more credit hours than last year. If the average student enrolls in 12 credit hours - full-time for an undergraduate and more than full-time for most graduate students - it amounts to almost 680 more students this year than last.
That's good news after seeing enrollment declines for the past two years. In fall 2007, KU lost 353 students compared to the year before when enrollment was down 11 students.
Lariviere also pointed out the large occupancy of student housing.
"The dorms are full - completely full," he said. "Diana Robertson and her colleagues in housing have worked magic. The rooms were ready, clean and fully functional, the wait lists have been accommodated, and no one has been relegated to having to sleep in lounges or to be put three or four to a room."
And while many may want to credit the football team's Orange Bowl championship or the men's basketball National Championship, Lariviere said that's not necessarily the case.
"First and foremost, students continue to be attracted by the outstanding teachers and talented researchers we have on Mount Oread," he said.
Hemenway and Lariviere both offered assurances to a nervous campus that while the national economy's outlook was dim, all the talk of higher education budget cuts may never happen. Lariviere said he felt that the assurances from Gov. Kathleen Sebelius that she would work to protect all areas of education from damaging cuts was promising.
Lariviere closed with a call for the faculty to keep their heads up in heavy times and to remember that they performed a necessary function at KU.
"You are - collectively and individually -state treasures," he said. "Your work shapes the future of this state, the nation and the world. Thank you for that work."
Copyright 2018 The Lawrence Journal-World. All rights reserved. This material may not be published, broadcast, rewritten or redistributed. We strive to uphold our values for every story published.