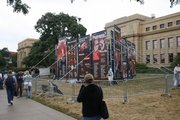 Tammy Cook wants students to know what effect abortion has on society.
And Cook, director of field operations for the Wichita-based anti-abortion group Justice for All, has visual aids.
"We brought an outdoor exhibit to help people more fully understand what abortion is," she said. "Most people in this country are having a disconnect about what abortion is and what it really means."
Students milled around large panels Wednesday on the front lawn of Strong Hall at Kansas University. On the front were large, graphic photos of aborted fetuses at different stages of development.
Justice for All, KU Students for Life, the Benedictine College Ministry Office, Benedictine's Ravens Respect Life and several national anti-abortion groups presented what they called a "free speech zone" in front of the panels.
Several large boards, soggy from the rain, had messages supporting both sides scrawled across them. Nearby, a small group of student protesters held signs speaking out against the anti-abortion activists and the images they presented.
Cook said the goal of the exhibit was to encourage an open and civil discussion between two very different sides of a volatile issue.
However, not everyone was pleased with the use of graphic images to start the discussion.
Elise Higgins, president of the Commission on the Status of Women, said her group thought the way the discussion was framed was inappropriate.
"We believe the images that this group presents are graphic and disturbing," she said. "We believe that they're unfair to women who have had abortions."
Higgins said her group thought it was important for the other side of the issue to be heard.
Both Higgins and Cook said the interaction between the two groups had remained civil.
"We've had some great dialogue with the people out here," Higgins said. "They've been very respectful."
The exhibit will be up again from 9:30 a.m. to 3:15 p.m. Thursday.
Copyright 2018 The Lawrence Journal-World. All rights reserved. This material may not be published, broadcast, rewritten or redistributed. We strive to uphold our values for every story published.