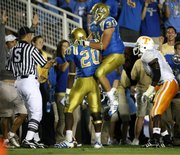 Pasadena, Calif. — Quarterback Kevin Craft sparked UCLA's offense in the second half Monday night, and Kai Forbath kicked a 42-yard field goal in overtime to lift the Bruins to a 27-24 victory over No. 18 Tennessee, making coach Rick Neuheisel's debut a winning one.
The season opener for both teams had a wild finish.
The underdog Bruins, who took the lead with 27 seconds left in regulation, were forced into overtime when the Volunteers' Daniel Lincoln kicked a 47-yard field goal as time expired.
But in the overtime, when neither the Bruins nor the Vols were able pick up a first down, Forbath made his kick, and then Lincoln missed from 34 yards.
Craft, who threw four interceptions and totaled 66 yards in the opening half of his first game for UCLA, went 18-of-25 for 193 yards and one touchdown in the second half without an interception.
The touchdown was a three-yarder to Ryan Moya that capped a 70-yard drive and gave the Bruins a 24-21 lead with 27 seconds left. The Vols had gone up 21-17 on Montario Hardesty's 20-yard run with 1:54 to play.
After the Bruins went back in front, the Vols answered with a quick 27-yard march that ended with Lincoln's tying field goal.
Raymond Carter had put UCLA up 17-14 earlier in the fourth with a three-yard run.
Craft, a junior-college transfer who was a third-stringer for the Bruins before injuries to the first two quarterbacks pressed him into the starting role, finished 25-of-43 for 259 yards, with the one touchdown and four interceptions.
Neuheisel, a former UCLA quarterback who was the 1984 Rose Bowl MVP, returned as head coach last December after Karl Dorrell was fired. The Bruins, plagued by quarterback injuries, went 6-7 last year.
UCLA lost three starters in the first half - tailback Khalil Bell due to an ankle injury, tight end Logan Paulsen to a fractured foot and wide receiver Marcus Everett to a toe injury.
Tennessee won the SEC East and finished 10-4, with one of the losses a 45-31 defeat to California at Berkeley in the Vols' season opener.
New Vols quarterback Jonathan Crompton finished 19-of-41 for 189 yards.
Copyright 2018 The Associated Press. All rights reserved. This material may not be published, broadcast, rewritten or redistributed. We strive to uphold our values for every story published.