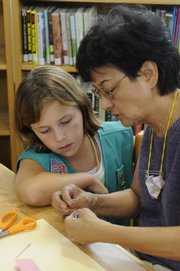 Past Event
with three films featuring work by Nancy Bjorge
When: Wednesday, September 3, 2008, 6 p.m.
Where: Pachamama's , 800 New Hampshire, Lawrence
-->
-->
The Girl Scouts motto is "Be prepared."
Lawrence artist Nancy Loo Bjorge took that to heart when organizing her latest show.
"I'm getting old, and I keep thinking I better teach young people things that I know so that they can enjoy it and pass it on," Bjorge says.
So Bjorge met with Girl Scouts at Langston Hughes School, 1101 George Williams Way, to collaborate with them on a public art project. The 69-year-old artist had worked with them before on one of her specialties: origami-style paper folding. But this time she chose to return to her original style of metalworking, specifically jewelry making.
"Mrs. Bjorge is awesome," says 9-year-old Carson Drake, who chose to fashion a necklace that features a Christmas theme.
Members of the troop will be modeling their own finished art throughout the evening Wednesday at Pachamama's, 800 N.H.
This is one of many facets to Bjorge's latest showcase.
The artist's mixed media exhibit "Folding Light" has been featured at Pachamama's since July, and she's staging a closing party that will encapsulate the intricate, dramatic nature of the pieces.
"Folding Light" merges Bjorge's paper skills with electronics in a fresh way. She begins with tiny LED lights and hides them within the folds of the paper patterns. Most of these designs are enclosed in glass frames, creating a "light box."
"When the light goes through the little piece of paperwork on top of it, they change color," she says. "You'll be amazed at the way the paper form has changed. The whole thing sometimes looks like a different piece."
Cinematic collaboration
The evening will also feature three films centering on Bjorge's work. The newest of these is also titled "Folding Light."
"I call it a meditative piece," says filmmaker Jim Jewell. "There's no real story line or narrative to it. It's basically an inspiration on her little light pictures. It compliments them and allows you to see them on a larger screen than their original size. I took a bunch of images in macro mode and created a dissolve slideshow. The discipline for me was to not do more than that to it."
Jewell first met Bjorge while working on the crew for a Chinese home cooking show she was taping for cable TV. His first cinematic collaboration with her, "Folding by Design," was a version of her art and life story. The second, "Shower of Colors," focused on shots of her work put to music.
"It's a self-contained world of exploration for me to collaborate with an artist. She's very creative in her ideas and execution. I enjoy working with Nancy, and I enjoy the imagery she comes up with," says Jewell, who has been employed by Kansas University for 19 years doing video production.
For the 20-minute piece "Folding Light," the pair also teamed with composer Marty Olson, who Jewell says provides a "Brian Eno-style meditative compliment to this piece."
All three films will screen in the Pachamama's meeting room at 7 p.m. Bjorge, Jewell and Olson will be available to discuss the projects.
As for future enterprises with Bjorge, Jewell thinks that's likely given her proficiency with visual art.
"She keeps crunching them out. Each one's a little different," he says. "It's kind of a kaleidoscopic playground to delve into."
No right nor wrong
Born in China and raised in Hong Kong, Bjorge has lived in Lawrence for 28 years.
She began her career as an art teacher but eventually moved full time into selling real estate.
She describes her art style as one that is constantly highlighting a unique approach.
"With paper folding, people do the crane and this and that. I do it in a very different way. With my jewelry background I utilize a lot of different techniques," Bjorge says.
Her young students seem to embrace this idea of artistic individualism.
"Mrs. Bjorge told me there was not a right way or wrong way to make my jewelry," Carson says. "Art is about being creative."
Copyright 2018 The Lawrence Journal-World. All rights reserved. This material may not be published, broadcast, rewritten or redistributed. We strive to uphold our values for every story published.