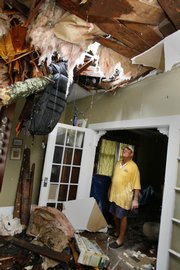 Other systems
After becoming a Category 1 system near the southern Bahamas on Monday, Hurricane Hanna was forecast to curve close to South Florida by late Wednesday or Thursday. Should Hanna veer any closer than projected, it's likely this region would be placed under a hurricane watch or warning by Wednesday.
Meanwhile, Tropical Storm Ike, the ninth named storm of the season, formed in the Central Atlantic on Monday. It was forecast to grow into a hurricane and march west over the next five days toward the Bahamas. On Monday evening, it was about 1,300 miles east of the Leeward Islands and posed no immediate threat to land.
Washington, D.C. — Federal emergency management officials expressed cautious optimism Monday that preparation efforts for Hurricane Gustav helped avert the casualties seen in Hurricane Katrina three years ago.
Officials credited a successful evacuation and shelter system in citing a different outcome from Katrina's 1,600 casualties, but acknowledged that full damage assessments were yet to be made.
Aircraft grounded because of high winds were to begin flying over stricken areas later Monday to make the first evaluations of the destruction.
It's "much too early" to declare success, said Maj. Gen. Don Riley, deputy commanding general of the Army Corps of Engineers.
Authorities reported eight deaths related to Gustav, which made landfall in Louisiana as a Category 2 storm, a weaker-than-expected strength. At a news conference, officials said they were investigating three deaths among the more than 9,000 ill and elderly patients evacuated. About 17 percent of electric customers in Louisiana were without power, although the percentage could rise.
Although the New Orleans levees appeared sound, Houma, Morgan City and areas of Lafourche Parish in southern Louisiana were cited as places facing danger, and officials said they remained cautious.
Riley said the New Orleans levee system held even though post-Katrina reconstruction is only 25 percent complete. He said the Ninth Ward of New Orleans, wiped out in Katrina, experienced "some overwash," but added the city pumps should be able to cope with the spillover.
The levee rebuilding will not be complete until 2011, Riley said.
Harvey Johnson, deputy administrator of the Federal Emergency Management Agency, said the massive evacuations prior to the storm went well.
Maj. Gen. Bill Etter, director of domestic operations for the National Guard, said 14,000 air and army guardsmen were deployed and 50,000 were ready to respond.
The American Red Cross said 45,000 people were in its shelters, compared with 30,000 during Katrina. While the number is growing, many spaces planned as shelters have not been needed yet, said Joseph Becker, a disaster services specialist for the organization.
Copyright 2018 The Associated Press. All rights reserved. This material may not be published, broadcast, rewritten or redistributed. We strive to uphold our values for every story published.