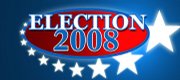 In-depth coverage of the candidates and the issues, all leading up to the Aug. 5 primary and the Nov. 4 general election.
The number of races and questions on the general election ballot appears to be a double-edged sword for Douglas County Clerk Jamie Shew and election officials.
The presidential, congressional, state and county races, plus three Lawrence sales tax questions, should help boost voter turnout.
But it also means lots of words on the ballot.
So many words that, perhaps, Shew will have to give voters an extra page, instead of just one ballot with the front and back covered.
One extra page could cost the county $18,000 to $20,000, Shew said, and it could derail some of his plans to open up satellite advance voting sites across the county in days prior to the Nov. 4 election.
So the clerk's office last week was still planning the ballot, and Shew said he was trying everything he could to keep the questions on one sheet.
"I think that provides less confusion for voters. You're not dealing with two separate ballots, and then, from a cost standpoint that's also my goal," Shew said. "But I'm also not going to do something that creates such a compressed ballot that you have to have your magnifying glass to figure things out."
That could be the challenge, especially with three Lawrence sales tax questions to fit on there.
Shew had hoped to find a way to open up advance voting sites in Lecompton, Baldwin City, Eudora and Lawrence in the days before the election to persuade some voters to turn out early.
This could help keep some lines down on Election Day. But if more funds have to be put into printing the ballot, it could take away how many advance voting sites can be offered.
Shew said a decision on the ballot length could come later this week.
The final day to register to be eligible to vote in the general election is Oct. 20. Advance voting begins Oct. 15 at the Douglas County Courthouse, 1100 Mass. The clerk's office will also begin sending out mail-in advance ballots that day.
Copyright 2018 The Lawrence Journal-World. All rights reserved. This material may not be published, broadcast, rewritten or redistributed. We strive to uphold our values for every story published.