Photo Gallery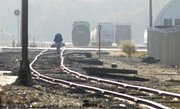 Homeless campsite cleanup
City crews on Friday morning found the makings of a sophisticated homeless camp on the banks of the Kansas River - complete with small wooden homes and accommodations for up to 50 people.
"I couldn't believe it," said Acting Parks and Recreation Director Ernie Shaw, whose crews are responsible for cleaning the nature area near the Burlington Northern Santa Fe Depot at Seventh and New Jersey streets. "They were getting ready to build a city down there."
Shaw said that his department was alerted to the large presence by the Lawrence Police Department after two individuals were found dead in a tent at the site on Oct. 24.
Shaw said his department has removed homeless camps from the area in the past - about every four months, on average - but he said the encampments were much larger and more sophisticated this time.
He said crews had removed two wooden buildings approximately 12 feet by 20 feet. The buildings were insulated and equipped with battery-operated lights. Shaw said more lumber was on the site, indicating that other buildings were in the process of being constructed. By mid-morning on Friday, city crews had removed an entire dump truck full of lumber from the site, Shaw said.
Shaw said police officers told him that anywhere from 20 to 50 people could be found at the site on any given night.
A crew of about 20 city employees - equipped with front-end loaders, four dump trucks and large construction trash bins - began cleaning the area Friday morning.
The cleanup started east of the Riverfront Mall beyond a chain-link fence, through the area the city calls the Habitat Restoration Area and on east of the train station.
Police officers also were on the scene to help ensure order. The city - as has been its practice recently - posted signs in the area several days in advance telling people there that the site would be cleared. A police spokesman said no arrests were made at the site on Friday.
Camping on city park property is illegal, and Shaw said it is important to keep the area clean to prevent fire hazards and to allow the area to be enjoyed as natural greenspace.
But an advocate for better homeless services in the city said clearing out the camp will produce hardships. Loring Henderson, director of the Lawrence Community Shelter, said his 31-bed facility is full each night. The Salvation Army recently has had room for an additional five to eight people per night, but all occupants must pass a sobriety test, said Wesley Dalberg, commander for the Salvation Army's Lawrence operations.
Henderson said his staff tries to encourage people to call a friend, if possible, to find a place to stay. But he also said the shelter distributes blankets to people who look like they will have to spend the night outside.
"We don't recommend places for them to go, though, because there are very few places in the city where it is legal to sleep outside," Henderson said. "Some of them, I know, just stay awake and keep moving all night."
Henderson said without more shelter space or other programs to serve the homeless, he's not sure clearing out the camp is the best practice.
Instead, he said the city should consider creating a temporary designated camping area somewhere in the community where activities could be better monitored.
He said that could buy the city some time while it waits to get homeless service programs established. The Lawrence Community Shelter is seeking to move to a location that would allow it to expand to 75 to 100 beds. The Lawrence-Douglas County Housing Authority also is in the process of establishing a program to work with landlords who are willing to allow vacant apartment units to be used as temporary housing.
Copyright 2018 The Lawrence Journal-World. All rights reserved. This material may not be published, broadcast, rewritten or redistributed. We strive to uphold our values for every story published.