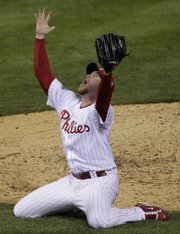 Philadelphia — Save the jokes, the taunts and all those insults about the losingest team in sports.
The Philadelphia Phillies just won themselves a World Series. If that sounds strange, it was strange.
Nearly 50 hours after Game 5 started but was stopped by rain, Brad Lidge and the Phillies finished off the Tampa Bay Rays, 4-3, in a three-inning sprint Wednesday night.
"It was a crazy way to win it with a suspended game, but we did and it's over," 45-year-old Phillies pitcher Jamie Moyer said. "It has been a long wait, but it's worth it."
Left in limbo by a two-day storm, the Phillies seesawed to their first championship since 1980. Pedro Feliz singled home the go-ahead run in the seventh and Lidge closed out his perfect season to deliver the title Philly craved for so long.
"Who's the world champion?" manager Charlie Manuel asked the gleeful crowd during a 90-minute postgame ceremony that lasted longer than Wednesday night's action.
Bundled in parkas and blankets, fans returned in force to Citizens Bank Park and saw the city claim its first major sports championship in 25 years. No more references needed to those sad-sack Phillies teams in the past and their 10,000-plus losses.
"They could taste it just as much as we could," Series MVP Cole Hamels said.
It was among the wackiest endings in baseball history, a best-of-seven series turned into a best-of-31â2 showdown when play resumed in the bottom of the sixth inning tied at 2.
For Philly, it was more than a World Series win. Got the whole city off the hook, actually.
Finally, long after Julius Erving led the Sixers to the 1983 NBA title, something to celebrate.
Copyright 2018 The Associated Press. All rights reserved. This material may not be published, broadcast, rewritten or redistributed. We strive to uphold our values for every story published.