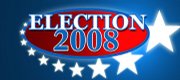 In-depth coverage of the candidates and the issues, all leading up to the Aug. 5 primary and the Nov. 4 general election.
Voter registration
The Douglas County Clerk's Office reported Wednesday the county has a record 83,329 voters for Tuesday's election.
Here is a party affiliation breakdown:
Democrats, 29,187.
Republicans, 24,388.
Independents, 28,896.
Reform, 102.
Libertarian, 756.
Results from Tuesday's election in Douglas County won't become official until a few days later than usual.
Douglas County Commissioners will meet for the official canvassing on the Monday after the election, instead of the Friday, because the Douglas County Clerk's Office staff members will need more time to prepare.
"We'll have so many provisional ballots that need to be processed. There's no way we can get it done by Friday," said Douglas County Clerk Jamie Shew.
Shew has predicted a turnout near 80 percent for the election, based on interest in the presidential race.
But the higher turnout will mean more voters must cast provisional ballots if there is some kind of question about a voter's registration.
During the 2004 general election, 2,897 people cast provisional ballots in Douglas County, and commissioners approved 1,997 ballots. That canvassing was also on a Monday.
The county only had 97 provisional ballots for the August primary.
Shew said state law allows counties to canvass results for any election up to the Monday after the election, and many larger counties in the state always canvass on Monday instead of Friday.
On Wednesday, Shew was also sending Douglas County's official registration numbers to the Kansas Secretary of State Office for the general election. By Wednesday afternoon, the county had 83,329 registered voters, with staffers making one last check.
The county had 77,209 registered voters for the August primary, and 65,181 at the time of the 2004 general election.
Advance voting is still available until noon Monday. The courthouse, 1100 Mass., will be open from 8 a.m. to 7 p.m. today and Friday for walk-in voting. The clerk's office will also be open from 8 a.m. to 3 p.m. Saturday, and election workers will operate satellite advance voting sites from 8 a.m. to 3 p.m. at the Baldwin City Library, the Eudora City Clerk's Office and the Lecompton City Clerk's Office.
By Wednesday afternoon 12,805 voters had either already cast an advance ballot or requested a mail-in ballot.
Copyright 2018 The Lawrence Journal-World. All rights reserved. This material may not be published, broadcast, rewritten or redistributed. We strive to uphold our values for every story published.