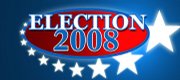 In-depth coverage of the candidates and the issues, all leading up to the Aug. 5 primary and the Nov. 4 general election.
Veteran lawmaker state Rep. Tom Sloan, R-Lawrence, has a large lead in campaign cash over Democratic opponent John Wilson in the House District 45 contest.
According to campaign finance reports filed Monday, Sloan had $40,247 cash on hand as the Nov. 4 election approached.
Wilson, in his first campaign, had $2,166 cash on hand.
For the three-month period from July 25 through Oct. 23, Sloan raised $18,476.
He had a hefty war chest of $80,209 in contributions at the start of the reporting period. During the past three months, he spent $58,439.
Sloan's top contributions included $1,000 from Koch Industries Inc. and $500 each from the AT&T; Kansas PAC, Plumbers and Pipefitters Union Local 441 in Wichita, Restore America of Topeka, Kansas Medical Society, Mid-Kansas Electric Co., Kansas Contractors Association and Kansans for Lifesaving Cures.
Meanwhile, Wilson raised $17,564 during the three-month period. He had $11,581 before that.
Wilson has spent $26,979 during the past three months.
During the past three months, he received $500 from Sara and Ray Dean of Lawrence, Anne Ferree of Los Angeles, Mike Ferree of Los Angeles, Lisa Rickert of New York, Hubert Tse of New York, the Kansas National Education Association, United Steel Workers, United Transportation Union, Carpenters District Council, AFL-CIO and Iron Workers Local No. 10.
Copyright 2018 The Lawrence Journal-World. All rights reserved. This material may not be published, broadcast, rewritten or redistributed. We strive to uphold our values for every story published.