Open the blinds on the sunny side of the house when the sun is shining and close them as soon as the sun goes down to retain the solar heat. Close the curtains on the shady side of the house. If you don't have curtains consider installing some.
Source: About.com
On the street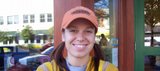 I do actually, especially lately with the nice weather. I've been seeing how long I can go without turning on the heat, but it looks like I might be about that time.
Copyright 2018 The Lawrence Journal-World. All rights reserved. This material may not be published, broadcast, rewritten or redistributed. We strive to uphold our values for every story published.