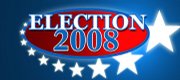 In-depth coverage of the candidates and the issues, all leading up to the Aug. 5 primary and the Nov. 4 general election.
In the State Board of Education, District 4 contest, Democrat Carolyn Campbell has outraised and outspent Republican Robert Meissner 2-to-1.
The two are vying for a seat that includes most of Lawrence. The incumbent, Democrat Bill Wagnon is not seeking re-election.
From July 25 through Oct. 23, Campbell spent $25,136 to Meissner's $12,520. And she raised $21,501 to Meissner's $9,855.
At the end of the three-month period, Campbell had $5,048 cash on hand, and Meissner had $7,355.
Meissner received $800 from the Second District Republican Party PAC, and $500 from Michael and Regina Schulles of Silver Lake, Gerald and Barbara Brosius of Topeka, Dean Troyer of Topeka, Lloyd and Nancy Hanahan of Overland Park, and the Kansas Republican Party.
Campbell received $500 from Hallmark Cards Inc., Mainstream Political Action Committee, Greater Kansas City Chamber of Commerce PAC, Kansas Alliance of Black School Educators, Carpenters District Council, Kansas-National Education Association, Kansans for Life-Saving Cures, Ron Siebold of Lawrence, Education PAC, Kansas Families for Education, and the Bluestem Fund.
Copyright 2018 The Lawrence Journal-World. All rights reserved. This material may not be published, broadcast, rewritten or redistributed. We strive to uphold our values for every story published.