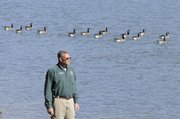 Jerry Schecher, like many Kansans, embraced the "work hard" ethic as the oldest of three children growing up on the family farm in Horton. Now the manager of Clinton State Park, he once helped with the chickens, cows and haymaking.
He also swept up at his father's barber shop every day after school, washed the shop windows on Saturdays and waxed the floor monthly.
"I started at the bottom and worked my way up," says Schecher, 49.
He took his first paying job in a lumber yard at age 13, then worked in an auto parts business.
After high school graduation, Schecher worked for the Kansas Department of Transportation in Topeka and then became an engineering technician at the Kansas Parks and Resources Authority. He learned how to create park maps from aerial photographs and worked with planners on a statewide recreation plan.
"Over the course of a year, I was in every city in the state of Kansas counting ball fields, picnic tables, playground equipment and recreation spots. It was a huge adventure," he says.
When he was 22, he became a ranger at Pomona State Park. Ten years later he was promoted to his present job.
In addition to four full-time employees, Schecher supervises 25 volunteers who work 16 hours weekly. He and his crew are busy maintaining 460 campsites and facilities, which include a swimming beach, bike and walking paths, cross-country ski trail, fishing spots, boating docks, playgrounds and 10,000 acres of a fenced-off wildlife refuge.
The park boasts turkeys, possums, raccoons, deer, bobcats and coyotes, including three black coydogs (from clandestine relationships with domestic dogs).
And, of course, there are snakes. The two nonpoisonous types, the black rat and northern spotted snakes slither mostly around the water; the poisonous copperheads and timber rattlesnakes tend to stay in remote areas.
"We get maybe one ambulance call a year," he says. "Mostly people and the snakes are careful."
Schecher especially loves the birds, including egrets, blue herons, bald eagles, buzzards, pelicans and Canada geese.
"I love the migration periods when gulls, pelican and waterfowl cover the surface of the lake," Schecher says. "I never tire of seeing them."
He also enjoys the 175 (catalogued) species of wildflowers that dance across the native prairie fields.
One of his biggest challenges is trying to provide all the necessary amenities at the park on a limited budget.
"In spite of financial restrictions, it's very rewarding for me to see people come and enjoy what we can provide," he says. "I love working in one of the most beautiful places in Kansas. I get to see the delight in people's faces as they discover some of the secrets hidden in a place I've helped create and maintain."
Copyright 2018 The Lawrence Journal-World. All rights reserved. This material may not be published, broadcast, rewritten or redistributed. We strive to uphold our values for every story published.