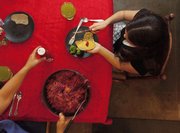 Fourteen-year-old Sarina Farb could nibble on a piece of bacon if she wanted, but the thought sickens her.
"I have my own food choices," Farb said. "If someone was serving meat and I wanted to try it, I could, but I don't consider eating it at all."
Sarina and her 10-year-old sister, Samantha, have never tasted meat.
"They've always eaten a vegetable-based diet," said their mother, JoAnn Farb. "Probably at least once a week at least one of them says to me, 'We are you so glad you raised us this way.'"
Every night, JoAnn whips up tasty, veg-friendly meals. For breakfast and lunch, it's fruit, salad or the leftovers from the night before.
With the whole family eating vegan, it's easy for Sarina and Samantha to maintain their dietary lifestyle. But other teens and children might meet hurdles.
Judy Carman, animal activist and co-founder of Animal Outreach in Lawrence, says she's seen teens trying to become vegan or vegetarian meet resistance from parents.
"It's hard for them because they're not making their own money, they can't go buy their own food, so that gets tricky," Carman said.
She says attending a community vegetarian function might be a good way for teens to introduce their parents to the lifestyle. VegLawrence has a monthly potluck, for example.
"Everyone is welcome to come, and they don't have to bring food," Carman said. "The purpose is to help people learn how to make vegan food."
Green diet
Some strategies for young vegetarians:
¢ Ask for alternatives: Judy Carman has seen students convince cooks to offer vegan choices. If the school cafeteria fails to offer vegetarian foods, request tofu burgers or salad bars.
¢ Be prepared: The Farb family lives by the "Little House on the Prairie" philosophy for food: They never expect to stumble onto victuals outside of the house. When they leave, they slip grapes, watermelon and oranges into a cooler and cram it in the car. They take vegan-friendly chips or cookies or easy burritos - tortillas stuffed with avocados and beans - just in case hunger hits them.
¢ Get educated: Samantha Farb likes to read a magazine called Vegnews. It features articles with celebrities, recipes and advice.
Copyright 2017 The Lawrence Journal-World. All rights reserved. This material may not be published, broadcast, rewritten or redistributed. We strive to uphold our values for every story published.