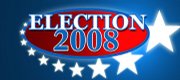 In-depth coverage of the candidates and the issues, all leading up to the Aug. 5 primary and the Nov. 4 general election.
It would be hard for someone not to notice the enthusiasm in Douglas County leading up to the Nov. 4 election.
The county already has 81,000 registered voters, a record, and county clerk staffers are counting the final registration forms that came in the mail last week.
More than 9,000 people had cast in-person or mail-in advance votes before Saturday; during the entire 2004 presidential election the county had a total of about 9,700 advance votes.
But Douglas County Clerk Jamie Shew said with an expected increase in turnout for this election, officials will also have to deal with more provisional ballots, which usually involve some question about a voter's address.
The clerk's office has already had to issue several provisional advance ballots to voters, which has made for some unpleasant conversations.
"We've had a couple of situations where people have gotten very angry," Shew said. "Like, extremely angry."
But he said it often involves a misunderstanding of the process because typically 80 percent to 85 percent of provisional ballots end up counting anyway, and the process is protected by federal law.
Here are answers to some of the questions about provisional ballots.
Q: What is a provisional ballot, and why do some voters have to cast them?
A: An election official or poll worker has a voter fill out a provisional ballot if there is any question about a voter's eligibility.
For instance, voters might have changed their address but not changed their registration. Or voters might show up at the wrong polling place near the poll closing deadline. Another example is if a first-time Douglas County voter has failed to show identification either before the election or at the polls.
The poll worker has the voter fill out a ballot anyway. The ballot is placed in an envelope with the voter's signature. The clerk's office then has three days before the official canvass to research the reason for the provisional ballots.
A voter can still come in and show identification to make their vote count.
Shew said provisional ballots are for some reason seen as negative, including rumors that the clerk's office counts them only in a close election. But his office is required to account for all ballots cast during the election.
"If people see it as an obstacle or start to refuse to fill them out, they're actually denying their protections," Shew said.
Q: What happens to them?
A: County commissioners, when they certify the election the Friday after Election Day, are making decisions on how many provisional ballots should count.
The clerk's office makes a list of the reasons why the ballots were cast as provisional ballots.
Typically, a majority of provisional ballots are counted because voters still live within the county but they had moved to another address than the one they registered under. Ballots that usually do not count are those cast by voters not registered in the county.
Q: What's the point if my vote won't count that evening when results are first tallied?
A: The results publicized at the close of the polls are unofficial because they do not include provisional ballots. In April, during the Lawrence school district's election for a local option budget increase, the number of provisional ballots was greater than the margin between yes and no votes. So proponents did not celebrate the results until days later after the canvassing.
Shew said no election results are final until an official canvassing, so a provisional ballot that ends up counting could still change election results of a race.
Q: How do the ballots remain anonymous?
A: When clerk's office staff members count provisional ballots the canvassers approve, several people get in a circle and rip up the envelope with the voter's signature on it. They shuffle up the ballots to separate them from the envelopes to mix them up.
"There's a lot of chaos for a reason," Shew said.
Copyright 2018 The Lawrence Journal-World. All rights reserved. This material may not be published, broadcast, rewritten or redistributed. We strive to uphold our values for every story published.