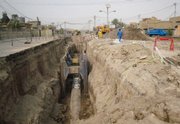 Baghdad — Stinking sewage runs through rutted and pocked streets in the former Sunni insurgent stronghold of Fallujah.
It was four years and nearly $100 million ago that Americans promised to take care of the problem, in perhaps one of the most wrong-headed rebuilding projects ever attempted in Iraq.
Now the planned sewage treatment system for the city of some 400,000 people is expected to open next April at the earliest, making it more than three years late and triple the original cost for roughly one-third of the system promised, according to a report being released today by the special inspector general for Iraq reconstruction.
Fallujah is 40 miles west of Baghdad and in the long-volatile Anbar province. The Americans destroyed the city, then committed to rebuilding it, in a bid to win hearts and minds after a major counterinsurgency offensive in late 2004, the worst urban combat of the Iraq conflict.
Problems multiply
The investigation into what went wrong with the wastewater project reads like a catalog of failings that have become habitual in the multibillion-dollar U.S. reconstruction effort across Iraq: staggering waste, endless delays, U.S. and Iraqi incompetence in contracting and administering the job, suspected sectarian discrimination and worse-than-poor contractor performance. Intense violence overlaid it all.
The report specifically blamed unrealistic U.S expectations from the start, repeated redesigns of the project, financial and contracting problems, and lack of a good contractors to draw from.
"They all weighed on : this project," said Brian Flynn, assistant inspector general for inspections. "It would be hard to say" which hurt the most.
Certainly high on the list of misjudgments was doing the project at all while Fallujah was convulsing and crumbling in 2004.
"You wouldn't start a Marshall Plan until World War II was over," Flynn said of the rebuilding plan for devastated Europe after that war.
"This has to be the classic example of doing reconstruction while hostilities are still going on," he said by telephone from Baghdad. "We've not done (another) one where security was so bad."
The contract was issued only three months after four private security contractors were savagely beaten and burned in Fallujah in March 2004 while escorting a convoy. The mutilated remains of two of them were later strung from a bridge.
Marines laid siege to Fallujah that April, but pulled back. Then in that November the U.S. military launched a searing offensive with aerial bombings, tanks and artillery that left the city a rubble-strewn ruin and meant any construction would have to start with the removal of debris, the report said.
U.S. Ambassador Ryan Crocker asked in July for the auditor's review because the project had "gone so far off track and for so long."
List of concerns
Major reasons the project fell so far behind schedule and costs soared were:
¢ The fighting raged on.
¢ The project was re-designed twice. Once was because Iraqi officials refused to accept a lagoon-style facility they said was "for Third World countries" and would give off a "stinking odor." A second redesign was to use generators to make up for the fact that electricity in Iraq is not reliable enough to operate the mechanized system Iraqis wanted.
¢ Fallujans rejected the use of contractors who were "foreigners," meaning Iraqis from outside their city. Local contractors had never built a wastewater treatment plant and it was hard to find ones who could do quality work.
¢ Contractors would not follow labor safety rules, resulting in a number of work-site deaths.
¢ Money became a tangle. Costs ballooned and officials sought to pay for the work from several different pots of reconstruction money, including $17.5 million in Iraqi money approved by the Ministry of Finance, U.S. congressionally budgeted money and emergency U.S. funds controlled by ground commanders.
Iraqi government's role
The Iraqi government that took over in May 2006 changed payment "requirements" for its portion of the contracted work, paying some contractors but refusing to pay others, raising suspicions the Shiite-dominated government was trying to deny help to the Sunni area.
The report describes U.S. Embassy officials frozen in "indecision" over how to finish and pay for the project. Last Nov. 2, "after more than 15 months of meetings, briefing charts, official memorandums, and countless e-mail exchanges," the report says, the officials decided to terminate outstanding contracts that were to be paid for by Iraqis and complete the remaining work with U.S. money, but make the project smaller.
Copyright 2017 The Associated Press. All rights reserved. This material may not be published, broadcast, rewritten or redistributed. We strive to uphold our values for every story published.