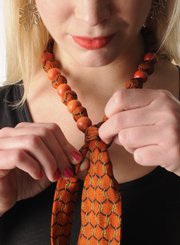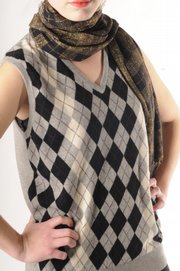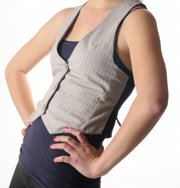 The ubiquity of menswear is nowhere near its finale. Women and men alike make a statement choice by dressing in a crisp, sharp suit. Time will never harness a classic; however, ladies - do take the reins and primp your own "menswear."
Jackets: Invest in a tailored blazer or jacket. Look for a unique piece that still maintains the masculine collar, crisp shoulders and front pockets of a man's overcoat but flatters a woman's figure. Also, consider nontraditional colors and girly details such as satin trim, cloth flowers or patterned fabrics. These womanly touches transcend an everyday topcoat into true lady's apparel.
Tip: Length is important: What will you wear your jacket with?
Tip: Give your bod some room: If you want to layer up during fall nights, will a bulky sweater limit your mobility? Will your jacket button and will your arms comfortably fit through its sleeves?
Pants: Seek out dress pants with a higher-rise waist. Curvaceous figures are flattered by placing emphasis on their smallest section. Also, pleats are not bad - embrace your inner Audrey Hepburn! A full length, center pleat that runs down any pair of trousers lengthens the figure and is crisp and clean.
Tip: Try the ultra-wide leg, flowy pants being spotted on runways.
Accessories and accents: Fedoras, neck ties, bowties, tie-pins, suspenders - you name it. Create an enticing outfit by incorporating these formerly boy's-only details. Accessories can feminize an outfit and are an easy way to make sure you won't be mistaken for a 12-year-old boy. Add color to the black-tie, pin-striped mob of businessmen, and you'll be sure to turn heads!
Tip: Include jewelry. This is just another way to stand out, and will remind others that you can wear the assertive, businesslike clothes of a man's world with the instincts of a female.
Copyright 2018 The Lawrence Journal-World. All rights reserved. This material may not be published, broadcast, rewritten or redistributed. We strive to uphold our values for every story published.