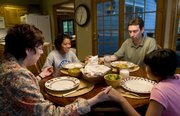 Andrea Wade, 11, prefers to sing the Johnny Appleseed grace when it's her turn to pick a prayer to sing at Girl Scout camp.
She sings the words: "O the Lord is good to me, and so I thank the Lord for giving me the things I need. The sun and the rain and the apple seed: The Lord is good to me."
Wade prefers singing grace because that's what she does at home with her father, John, a Kansas University psychologist; her mother, Susan, director of the Career Development Center, Baker University, and sister Angelica, 13.
It's a way to take a moment out of their busy days for God.
"It's important for us to eat and pray together every night in spite of the girls' many after-school activities," Susan Wade says. "We sing grace before we begin the meal. It's not unusual for us to add a prayer for a sick friend or extra thanksgiving for blessings, like vacation, extended family or the last day of school."
The Wades, like other Christians, typically use the word "grace" to denote this pre-meal ritual. People of other faiths and beliefs may prefer the word "blessing." American Indians, Muslims, Buddhists and Wiccans are among those who often perform some form of blessing ritual before eating.
Susan Elkins, past president of Lawrence Jewish Community Center, says Jews traditionally invoke blessings about everything from rising in the morning to bedtime and everything in between.
"The idea is that throughout our day, we recognize the blessings around us," she says.
The Stuever family, physician Kevin, nurse practitioner Susan, Stefanie, 17, Sarah, 16, and C.J., 13, are Christian and, like the Wades, cherish eating together as a family in spite of hectic and varied schedules.
"Before we eat, we ask everyone, including our visitors, to hold hands," Susan says.
"We invite everyone to say something they're grateful for, or pray for the less fortunate - like hurricane victims or children suffering with AIDS in Ethiopia."
Is holding hands with visitors embarrassing?
"No," she replies. "The teenagers might giggle, but we're fine with that. With today's culture of ever-growing impersonal communication, like e-mailing and texting, we forget the need for touch. Holding hands and praying before eating together is one way to make those important deeper interpersonal connections."
Copyright 2018 The Lawrence Journal-World. All rights reserved. This material may not be published, broadcast, rewritten or redistributed. We strive to uphold our values for every story published.