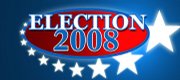 In-depth coverage of the candidates and the issues, all leading up to the Aug. 5 primary and the Nov. 4 general election.
Cedar Falls, Iowa — Republican John McCain, behind in the polls and looking for a comeback, argued Sunday that voters should elect him president to create a check on a Democratic Congress that he says is determined to increase taxes and the size of government.
McCain also ridiculed reports that Obama is polishing his inaugural address, but he focused on warning activists of the dangers of Democrats pushing for higher taxes and bigger government.
"That's what's going to happen if the Democrats have total control of Washington," McCain told supporters at an Iowa rally. "We can't let that happen."
Democrats, currently in control of the House and Senate, are on track for sizable gains in both chambers, aided by the poor economy, President Bush's unpopularity, a lopsided advantage in fundraising and a robust organizational effort in key states by Democratic presidential nominee Barack Obama.
McCain echoed running mate Sarah Palin, who told supporters at a Tampa, Fla., rally that Obama is acting as if he's already won.
"He's measuring the drapes," McCain said in Iowa, where public polls show him trailing Obama in the race for its seven electoral votes. "I prefer to let voters have their say. What America needs now is someone who will finish the race before starting the victory lap."
McCain rejected the notion that Palin is unqualified to be president and is hurting the campaign.
"I don't defend her. I praise her. She is exactly what Washington needs," he said.
Earlier Sunday, during an interview on NBC's "Meet the Press," McCain dismissed the poll numbers that show him trailing Obama nationally and in key states, including Iowa, and said his campaign is "doing fine." A Newsweek poll released Saturday showed Obama with a 13-point lead nationally.
Iowa offers seven electoral votes. A total of 270 Electoral College votes are needed to win the presidency.
"This is going to be a very close race, and I believe I'm going to win it," McCain said. "We're doing fine. We have closed in the last week. We continue this close through next week, you're going to be up very, very late on election night."
Copyright 2018 The Lawrence Journal-World. All rights reserved. This material may not be published, broadcast, rewritten or redistributed. We strive to uphold our values for every story published.