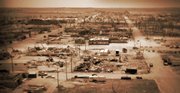 When an enhanced F5 tornado struck Greensburg on May 4, 2007, many thought the town of about 1,400 was destined to disappear. They were half right. About half the town's population has left. But for those who remain, the challenge of rebuilding a town from scratch is powerful and the lure of a new frontier is strong.
Greensburg — The recovery of Greensburg continues this week as Kiowa County Memorial Hospital and the Greensburg school district break ground on new projects.
The hospital is building a 15-bed facility, while the school district is constructing a 130,000-square-foot school. Both projects are designed to meet LEED Platinum standards, which are the highest level of certification from the U.S. Green Building Council.
They're also expected to provide a boost in morale for Greensburg as they're two of the first Greensburg institutions to commit to rebuilding 18 months after a tornado destroyed most of the town.
"This is a big year in Greensburg," said school Superintendent Darin Headrick. "For the last year and a half, we've seen houses going up. Once we start building the hospital, city hall, the school, the fire station - when we see bigger commercial facilities being replaced - that's exciting. It's definitely encouraging for everyone."
The hospital, which currently operates out of a temporary mobile trailer, is expected to be open by December 2009. While smaller than the original hospital, the new facility will offer its original slate of services, except for behavioral health. That's now moved to Kinsley.
The new hospital will now provide employee day-care services and space for a third-party retail pharmacy.
In keeping with the environmentally friendly "green" construction, the hospital will use recycled building materials and insulated windows, incorporate 70 percent natural daylight, reuse concrete from an old John Deere dealership in its parking lot and provide some of its own electricity with a wind-powered generator.
Hospital officials also plan to use filter and reclaim rainwater with cisterns and bioswells, a type of landscaping that looks like natural prairie land.
Hospital administrator Mary Sweet said she expects to hire more staff next year.
"Right now, we only have four patient beds," she said. "Then we'll have 15, so we'll obviously need more nursing staff."
Sweet said the hospital will hire day care workers and employees for the physical therapy department.
School officials say their building will be completed by May 2010 with construction on the new school itself expected to start in mid-November.
The building replaces the school space lost to the tornado in one facility, providing a wing for elementary and junior high students and another wing for high school students.
The wings will share some facilities, such as a cafeteria.
"It's not going to be a fancy building, but it will be extremely sustainable and very cost-effective," Headrick said.
Besides using natural daylight, geothermal heating and cooling, the school will use wind turbines to provide about of fourth of the electricity it needs.
The district will also use reclaimed building materials, such as wood from a Topeka clinic being torn down.
Clorox, which has made a large donation to the school's construction, will also provide personal water bottles for students and install bottle fill-up stations using the company's Brita-branded water filters.
"It's pretty exciting," Headrick said. "Everything we're doing is about the kids, so they are going to be a large part of the (groundbreaking) ceremony."
Copyright 2018 The Associated Press. All rights reserved. This material may not be published, broadcast, rewritten or redistributed. We strive to uphold our values for every story published.