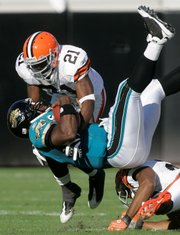 Pittsburgh — The New York Giants did little with the exceptional field position the Steelers gave them. Finally, when it seemed Pittsburgh had too much depth and defense for the Super Bowl champs, the Steelers were tripped up by - of all things - a bad punt snap.
Eli Manning threw a two-yard touchdown pass to Kevin Boss with 3:11 remaining for the Giants' only touchdown after they tied it several minutes before on a bizarre safety. Linebacker James Harrison's high snap on the punt gave New York two points, and the Giants held off Pittsburgh for a 21-14 victory in a matchup of division leaders.
The resilient Steelers (5-2), playing with backups all over the field, tried to make up for Ben Roethlisberger's four interceptions by turning two big-play scores into a lead they preserved with a goal-line stand midway through the fourth quarter.
But the Giants (6-1) tied it with 6:48 remaining on the safety.
Saints 37, Chargers 32
Wembley, England - A trans-Atlantic trip was just what Drew Brees and the New Orleans Saints needed to get their season back on track.
Brees went 30-for-41 for 339 yards and three touchdown passes against his former team, putting New Orleans back at .500 and dropping the Chargers to 3-5.
The Saints (4-4) held off a late comeback by the Chargers, who came from 37-20 down early in the fourth quarter and were driving for the tying touchdown. But linebacker Jonathan Vilma picked off a pass by Philip Rivers with just over a minute to go. Brees took a safety in the final seconds to complete the scoring.
After last year's rain-soaked, error-filled 13-10 win by the New York Giants over the Miami Dolphins in London, the NFL was hoping for a high-scoring, offensive show in its return to the English capital. And that's just what the 83,226 fans at England's showcase venue saw.
Browns 23, Jaguars 17
Jacksonville, Fla. - The Browns had just enough offense, even without Kellen Winslow. Jamal Lewis ran for 81 yards and a touchdown, and Derek Anderson completed three huge passes.
It was Cleveland's second victory in two games without Winslow, the outspoken Pro Bowl tight end who missed the game after criticizing the team following his staph infection.
Seahawks 34, 49ers 13
San Francisco - Compared to new coach Mike Singletary's feuding, fumbling, quarterback-switching 49ers, even the struggling Seahawks looked sharp.
Fullback Leonard Weaver made two lengthy touchdown catches, Josh Wilson returned an interception 75 yards for a score, and the Seahawks ruined Singletary's tumultuous debut.
Texans 35, Bengals 6
Houston - In his first meeting against his former team, Houston's Kevin Walter scored two touchdowns. He scored one touchdown in three seasons with Cincinnati, but set a career high by catching his fourth and fifth touchdowns of the year against Cincinnati (0-8).
Walter had help from a bevy of strong Houston performances led by Matt Schaub's three touchdown passes and Andre Johnson's fourth straight 100-yard game.
Dolphins 25, Bills 16
Miami - Ted Ginn had a breakout game with seven catches for a career-high 175 yards, and the Dolphins overcame a nine-point third-quarter deficit. With Ginn's first 100-yard game, he made by far his biggest impact since Miami's much-mocked decision to take him with the ninth pick of last year's draft.
Cowboys 13, Buccaneers 9
Irving, Texas - Brad Johnson made up for several missed chances at touchdowns by throwing one to newcomer Roy Williams at the end of a drive sustained by four defensive penalties. The maligned Dallas defense made it hold up.
The Cowboys (5-3) gained only 173 yards of total offense, but pulled off the victory.
Panthers 27, Cardinals 23
Charlotte, N.C. - Kurt Warner put up the better numbers, but Jake Delhomme engineered the comeback that kept the Panthers unbeaten at home and atop the NFC South. Delhomme threw for 248 yards and two touchdowns, including a go-ahead 65-yard strike to Steve Smith.
The Panthers (6-2, 5-0 at home) rallied from a 17-3 third-quarter deficit despite Warner's big day. He threw for 381 yards - by far the most given up by Carolina this season - and two touchdowns to Anquan Boldin. But the Cardinals (4-3) continued their road woes in part thanks to a botched fake field goal and a missed extra point.
Patriots 23, Rams 16
Foxborough, Mass. - The Patriots got by the Rams on a fingertip touchdown catch by Kevin Faulk. The Patriots' best pass-catching running back hung onto Matt Cassel's 15-yard pass on the left edge of the end zone with 3:19 remaining in the game.
A juggling interception by Deltha O'Neal with 1:08 left ended the Rams' last threat.
Faulk had shouldered a bigger running load than usual with Laurence Maroney sidelined for the season and the top two backups, Sammy Morris and LaMont Jordan, out with injuries. But Faulk did what he does best, catching the ball, just in time as the Patriots (5-2) won their second straight game.
Eagles 27, Falcons 14
Philadelphia - Brian Westbrook returned to his All-Pro form and rushed for 167 yards and two touchdowns as part of a dynamic all-around effort. Westbrook missed two of the last three games with broken ribs and had been bothered by an ankle injury. Perhaps rejuvenated by the bye week, Westbrook rushed for nearly as many yards as he had all season (194).
Westbrook scored on a 16-yard run early in the third quarter that gave the Eagles (4-3) 17 points in an 81â4-minute span.
Redskins 25, Lions 17
Detroit - Santana Moss dashed Detroit's hopes of finally winning a game.
Moss had a go-ahead touchdown reception in the third quarter and returned a punt for another score in the fourth.
Jason Campbell threw for 328 yards and a touchdown, connecting with Moss nine times for 140 yards for the Redskins (6-2).
Clinton Portis joined O.J. Simpson in the NFL record book with his fifth straight game with at least 120 yards rushing. Portis gained 126 yards.
Ravens 29, Raiders 10
Baltimore - On an afternoon that belonged to Rex Ryan and his tenacious Baltimore defense, the unquestionable highlight was a 43-yard pass from one Ravens quarterback to another.
Baltimore limited Oakland to 35 yards while building a 19-point halftime lead.
Rob Ryan was forced to deal with a surprise wrinkle. The Ravens (4-3) unveiled their own version of the single wing, inserting Troy Smith at quarterback and using starting quarterback Joe Flacco as the wide receiver on the left side.
The biggest play came in the third quarter, when Smith heaved a pass down the sideline to Flacco, who made an excellent grab on the run after getting behind linebacker Ricky Brown.
The completion set up a field goal for a 22-3 lead.
Copyright 2018 The Associated Press. All rights reserved. This material may not be published, broadcast, rewritten or redistributed. We strive to uphold our values for every story published.