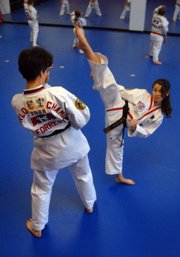 When 13 year-old Sarah Jacobson competed in the American Tae Kwon Do Association's World Championship, her mother was not at her side to cheer her on. She was about 40 yards away competing for her own World Championship title.
"There's nothing worse than to train together all year long and then hear you're assigned to compete at the exact same time," says Dru Forrester, who received updates on her daughter's progress via cell phone. "The rings were close, but it's really noisy. I couldn't pay attention to her because I had to concentrate on what I was doing."
The concentration paid off. Last June, Forrester was named World Champion in Forms and Sparring for the 40- to 49-year-old women's division of first-degree black belts, while daughter Sarah earned the title of World Champion in forms for 11- to 13-year-old girls with second-degree black belts.
"I won first, about four minutes before Sarah," Forrester says playfully. "Then someone called my ring and said, 'She got it! She got it!' and I started crying. It's more emotional to hear your kid's won than to win yourself."
"She's phenomenal; I'm OK," says Forrester, who became interested in tae kwon do after watching Sarah start classes at age 6. "There were some older people in the class, so I thought I'd give it a try. It's a social thing, and it's a good way to get fit, which is important when you get older."
Both Forrester and Sarah have found a second home at the America Tae Kwon Do Association's Black Belt Academy at Sixth Street and Wakarusa Drive.
"We're like one big happy family here," says Sarah, who goes to the studio every day after school to do her homework and practice forms before class.
Sarah and her mother competed in six tournaments this past year and each accrued enough points to qualify as top 10 finalists for the World Championship in Little Rock, Ark. At each qualifying tournament, Sarah came in second place behind a fellow competitor from Las Vegas. But instead of letting that girl get her down, Sarah rose to the challenge and let the spirit of competition further her drive to succeed.
Instructor J.T. Messinese recalls Sarah's turning point.
"About 12 to 14 weeks before the competition, she came to me and said. 'I have a shot at this and I want it,'" he recalls. "It was a whole new Sarah : she trained four hours every day, six days a week. It was an unbelievable amount of effort on her part."
Forrester, a veterinarian who works for Hill's Pet Nutrition, helped her daughter mentally prepare for the challenge of competition but stresses the importance of having someone outside the family critique her performance.
"There comes a point where we might kill each other," she says. "We both have perfection issues."
And then came the day in Little Rock when Forrester got the call her daughter was tied for World Championship.
"I knew right away who she was up against," says Forrester. "I said, 'Let me guess, the kid from Vegas, right?'"
Sarah vividly recalls the tense final moments of the tiebreaking procedure.
"There are three judges and they each point to who they think should be world champion," Sarah says. "Two pointed to me and one pointed to her. ...It was pretty dramatic. The first thing I did was cry, then we bowed and shook hands."
As of now, this dynamic mother and daughter duo has yet to make plans for next year's competition.
"We're going to take it easy. Whatever happens, happens," says Forrester.
But as Sarah looks at her mother, there is one thing she can say for certain: "I know I wouldn't be standing here today in tae kwon do or as world champ if it wasn't for my mother."
Copyright 2018 The Lawrence Journal-World. All rights reserved. This material may not be published, broadcast, rewritten or redistributed. We strive to uphold our values for every story published.