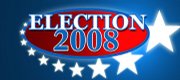 In-depth coverage of the candidates and the issues, all leading up to the Aug. 5 primary and the Nov. 4 general election.
Syracuse — Voters in Hamilton County will decide Nov. 4 whether to continue participating in a program aimed at reducing hail and enhancing rainfall in western Kansas.
Hamilton County, which borders Colorado, has been in the Western Kansas Weather Modification Program for 23 years. The cloud-seeding program operates from April to September.
This year, the program was funded by 10 participating counties, which paid 5.2 cents per acre for cropland and 2.2 cents per acre for rangeland, as well as the Kansas Water Office Budget and Groundwater Management Districts No. 1 and No. 3.
The decision to fund the program is usually made annually by participating counties' commissioners. This is the first time David Brenn, director of GMD No. 1, recalls a general election vote on whether to participate.
David Simon was one of the residents who asked to put the question on the ballot.
"Since our valuation was down, we thought it would be a good time to bring it up to the commissioners," Simon said. "They could have taken it out, but decided to have a vote."
The program has cost Hamilton County $27,167 per year, an amount already budgeted for 2009. But if voters decide not to continue it, that money would revert to the general budget.
A complaint of the program comes from farmers living on the far western side of the county. The pilots can't fly or seed clouds in Colorado, leaving a small window to begin the seeding of storm clouds. Some landowners say, therefore, it only helps those who live farther east.
Whether the seeding is effective close to the Colorado border depends on the speed of the storm, said project manager Walter Geiger. If it's creeping along or moving at normal speed, the seeding can be effective.
An evaluation by the Kansas Water Office in 2007 supported an earlier evaluation by the office validating the hail reduction, Brenn said.
The economy figured into putting the question to the voters, said Hamilton County Commissioner Keith Puckett.
"We are working on a tight budget," Puckett said. "If the public doesn't support it, it's a good time to end it."
Copyright 2018 The Associated Press. All rights reserved. This material may not be published, broadcast, rewritten or redistributed. We strive to uphold our values for every story published.