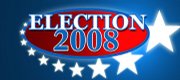 In-depth coverage of the candidates and the issues, all leading up to the Aug. 5 primary and the Nov. 4 general election.
Voter registration in Douglas County is shaping up to be a record, said County Clerk Jamie Shew, but final numbers won't be known until Wednesday.
Shew said early voters also are coming out in unprecedented numbers. As of Monday afternoon, more than 11,000 people had either voted in advance or requested advance ballots. In the 2004 election, a total of 10,000 people voted early.
People who request early ballots must turn those ballots in by 7 p.m. Nov. 4. If they go to a polling place with the hopes of voting there, they will be issued a provisional ballot.
"We're getting a lot of people who think they can do that," he said. "But once a ballot has been issued in their name, they cannot vote on another ballot," unless it is a provisional ballot.
Shew is projecting 13.5 percent of Douglas County voters will vote early, with as many as 16,000 participating in the early ballot.
While registered voters can request early ballots until Friday, Shew does not recommend waiting that long, saying ballots could get held up in the mail.
Douglas County residents can vote early at the Douglas County Courthouse, which is open until 7 p.m. every day this week, and until 3 p.m. Saturday. Satellite locations at the Eudora City Hall, Baldwin City Library and Lecompton City Hall are open from 8 a.m. to 3 p.m. on Saturday, as well.
By the voter registration deadline last Tuesday, Douglas County had 81,208 registered voters, but that number is on the rise because applications still are being counted.
The county had 77,209 registered voters for the August primary, and 65,181 at the time of the 2004 general election.
Copyright 2018 The Lawrence Journal-World. All rights reserved. This material may not be published, broadcast, rewritten or redistributed. We strive to uphold our values for every story published.