Photo Gallery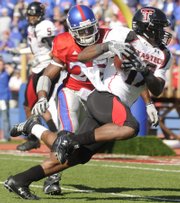 KU vs. Texas Tech
Photo Gallery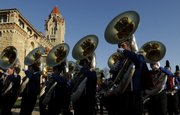 2008 KU homecoming parade
Audio Clips
2008 KU-Texas Tech football
Spodcasters
Spodcasters Postgame: Texas Tech
The guys (Tom Keegan, Jesse Newell) analyze what went wrong for KU in its 63-21 loss to Texas Tech. The two also discuss the Jayhawks' chances next week against Kansas State, which also boasts a strong offense.
Confident in himself and his teammates, Graham Harrell expected a Texas Tech victory Saturday at Memorial Stadium.
But 63-21?
A rout so convincing Harrell, Tech's senior quarterback, would be able to sit out the final 12 minutes, 48 seconds?
"No way, not against those guys," said Harrell, who completed 34 of 42 passes for 386 yards and five touchdowns in the No. 8 Red Raiders' dismantling of the No. 19 Jayhawks.
"Their offense is too good. Their defense is too good. You never expect to move it up and down the field on them like that. In the third quarter, I thought they may have felt defeated. You never expect that."
Harrell led Tech to touchdowns on eight of 10 drives, including five straight drives the first half. The only first-half drive that didn't result in a TD was the Raiders' final possession in which Harrell had just 31 seconds to work. The Raiders didn't need to punt until 21â2 minutes remained.
"We were sharp. We were having fun. When we play like that, we're tough to beat," Harrell said.
Eleven players caught passes in helping the Raiders to their highest point total of the season. Tech finished with 556 yards, which didn't rival the 693 yards racked up versus SMU. The Raiders gained 626 yards in a 58-28 pasting of next week's KU foe - Kansas State.
"You go out and know you are in for a battle, especially the success they have had and how good they are," Tech coach Mike Leach said, asked if he thought the game would be that lopsided.
"I know coach (Mark) Mangino personally. I know he's a great coach. We've picked each other's brains so much, shared a lot of ideas. I think he knows what he's doing. He thinks I sort of know what I'm doing. We sort of draw from each other. I'm happy for our players and program."
And his quarterback, a Heisman Trophy candidate.
"I keep telling everybody how good he is. He's gotten better and better every week. He's still improving as well," Leach said.
On the defensive end, Darcell McBath intercepted three of Todd Reesing's first four passes of the third quarter. The three overall picks tied a Tech record, previously set by Daniel Charbonnet earlier this season against SMU.
"Not since Pee-Wee (football) or something, scoring three touchdowns in a minute or something like that," McBath said, asked if he'd ever had as many highlights such a short time.
"It was definitely not easy. They came out flying," he added of the Jayhawks, with whom Tech was tied at 14 in the first quarter. "We had to make a lot of adjustments. We were trying to do too much at the beginning. We had to settle down."
In a feel-good story, sophomore place-kicker Matt Williams was 9-for-9 on extra-point tries. He's the guy who just a few weeks ago was a regular member of the student body at Texas Tech. He found himself on the team after booting a 30-yard field goal to win a halftime promotion of a home game versus UMass.
"I thought the tough one was for free rent (reward for the halftime boot)," Leach said. "You come out in shorts and street shoes and kick a 30-yarder in front of 55,000 people."
Copyright 2018 The Lawrence Journal-World. All rights reserved. This material may not be published, broadcast, rewritten or redistributed. We strive to uphold our values for every story published.