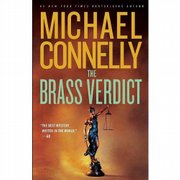 The hook that makes Michael Connelly's latest novel about L.A. defense attorney Mickey Haller so compelling isn't its plot or explosive, if somewhat excessive, finale but the fact that Haller, the "Lincoln lawyer" who works from the back seat of a Town Car, finally meets up with Harry Bosch.
Connelly set the table for the meeting early on in his justly praised detective series about Bosch, the L.A.P.D. homicide cop who carries around a heavy heart and acts, figuratively speaking, as our melancholy bridge to a world of crime and darkness. Although the connection between the men is more than a little contrived - they're half-brothers, one a defender of slime balls, the other a guy who will stop at nothing to put evildoers away - there's enough electricity in their sparring to overcome any potential mawkishness.
"The Brass Verdict" (Little, Brown, $26.99) doesn't carry quite the narrative weight or intricate characterization of the Bosch series, but Connelly Lite is still Connelly: swiftly paced, smart, procedurally sharp and a lot of fun. "The Brass Verdict" - named for street justice dispensed with a bullet - turns out to be a diverting thriller, if not a redefiner of crime fiction.
After the events of "The Lincoln Lawyer," which left him with a destructive taste for prescription painkillers, Haller is considering a return to work when he inherits the caseload of a colleague shot to death in his car. Bosch, it turns out, is investigating the murder. But what really captures Haller's attention, at least at first, is a sensational case just handed over to him. Walter Elliot, a prominent studio executive, has been charged with murdering his wife and her lover. Elliot claims he's innocent.
Haller doesn't care about the truth. "Everybody lies," he tells us. "Cops lie. Lawyers lie. Witnesses lie. The victims lie. A trial is a contest of lies." Maybe Elliot's lying. Maybe he's not. Either way, Haller's job is to defend him, to wait for a lie he can use as a weapon - and to collect a big paycheck. Such a lucrative, publicity-laden trial of the century is something a showman can't resist, even if a killer is still at large.
But Connelly, much like Bosch, is a moralist: Breaking rules in search of the truth is one thing, but not caring about right and wrong is unacceptable. And thus Haller learns a lesson, while Bosch makes a sort of peace with their long-dead father, and readers take pleasure in the fact that Connelly has produced his 20th novel without losing his touch. No lie.
Copyright 2018 The Lawrence Journal-World. All rights reserved. This material may not be published, broadcast, rewritten or redistributed. We strive to uphold our values for every story published.